Two Colour Shoes – Cool or MOD parody?
I thought I would put this piece together to look at why I think some two tone colour shoes (and the 'Co-respondent' shoes) look good, and others, well dont !

So, where to start; well I think the first mention in MOD terms, is the Roger Daltrey shoe that he wears in The High Numbers. There may have been others before, but this is the first photographic evidence I can see. As you can see in the pic, the shoe is white on the front and down to the sole. The lace is a derby style with 2 hole eyelets for the lace. The back part of the shoe is black.
I think the style is a play on a pair I have seen Gene Vincent wear, and there are some very similar ones worn by The Shadows. I think I am right in assuming that Pete Meaden choose the outfits, and certainly the one Roger is wearing, is his part of making Roger of the band the ACE face.
The style of the shoe has a slight point to the front and I assume was a fashion shoe at the time. Would love to know where the shoe was brought! And why it has never really been seen since. Was it bespoke ?
As you can tell I like this shoe.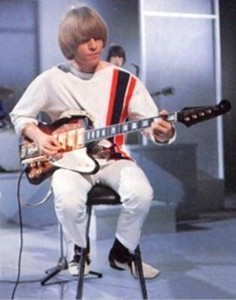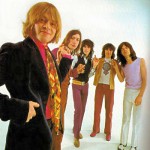 The next two tone shoe to enter, is the Regency look that the Stones adapted in I think around 65-66. I recall them in semi gangster look blue striped suits with quite wide lapels.
In terms of MOD I think it is the dandy look that came in the later sixties, as some mods went 'dandy' pre hippy look, whilst the rest went Hard Mod / Skinhead.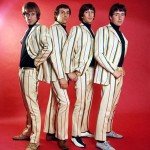 Pete Townsend said that a lot of the groups followed the audience rather than the other way round, so I suspect the look was very Carnaby Street . Bands like The Troggs and The Creation have elements of the sixties look that suits the Two Tone shoe.
The 'Co-respondent shoe' is also known as a 'Spectator', the name referring to its use in sports, you can a pair on Mick Jagger above. Lobb claims to have designed the first 'spectator' as a cricket shoe in 1868. The most usual styles are a brogue or a half brogue, in black or brown leather against the white buckskin. The white should not be leather, but often is these days.
I can hear someone at the back saying, surely you are forgetting Mr Marriott?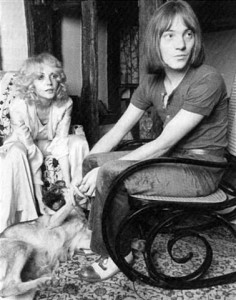 Not forgotten at all and why we see the shoe today. Steve can be seen on the 'colour me pop' show wearing a very distinct pair of brown and white , I think, brogue shoes. He also is wearing late 60's classic rock look, red velvet pants and waistcoat. The look is a mess of colours, but is held together well and shoes add to the effect.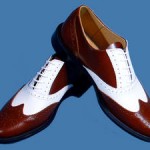 My thoughts on this look, great on Steve, but I don't know that it has aged well.
Status Quo and numerous others stole the look going into the seventies, and when I see it now, it just reminds me of Rock Covers band in your local pub!
Weller wears this style of two tone brogue well, he normally sets it off with a nice double breasted suit. Another that does that look well is Suggs from Madness.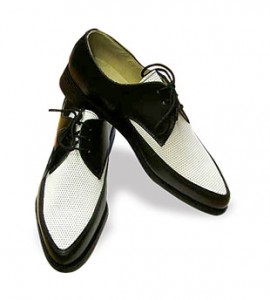 Now the MOD revival had lots of two tone varieties, The Jam shoe, The Jam Stage Shoe sometimes known as Badgers and of course bowling shoes. But let's go back to Jam Shoes. I swear blind Weller was just ripping the style from the original by Roger Daltrey. He has said on many occasions early Jam tunes were rewrites of Who numbers, so it seems logical to borrow the style as well.
The shoe is still available now, Ikon make one and there are others on the net. The Ikon is pretty close to the Jam shoe, but not quite the same, the white carries around the shoe.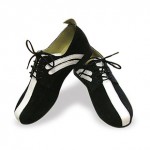 What I have always liked about the shoe, is that it firmly states "I am a MOD". Now a lot would argue it is not MOD at all, but let's not get into that. When you were 15, it was the uniform you needed with very clear boundries. Green Parka, Sta Prest , Fred Perry and pair of Jam shoes.
No different to a Skin with his 14 hole Air Wears or a Metal fan's first leather jacket.
Followed on by the badgers and the bowling shoes, the multi colour shoe epitomized the MOD revival. This though, is where I think this style hasn't aged well.
You see some lads on rallies in the shoes today. I dont have a problem with it, but some turn their noses up at them. I am not sure we are going to see a revival of red white and blue jam shoes any time soon. But as we all know MOD is built on snobbery!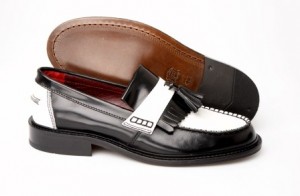 There are also some Tassel Loafers in two tone, which some of The Specials wear. Again I think this is a dated look.
So maybe you are starting to think that I just think everything looks dated, well I suppose most of them do, there is a but coming though.
Why do we have going out shoes?
Meaning that we have different shoes for work, the pub and proper going out. So are you going to be wearing a pair of dowdy black shoes or are you going to be wearing 'look at these, these are my going out shoes'?
When you are deciding what to wear, you want a range of good looking shoes. As you are getting dressed and slipping on your shoes you look in the mirror and think yep these are cool. You walk down the street, thinking these feel great.
When you dance to your favourite soul tune you want to slide across the floor.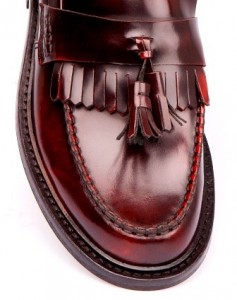 What I am trying to say is that there are many reasons why we buy and wear shoes, and making a statement is maybe just one of them.
So does a two colour shoe work, yes I think it does, DNA groove do some really cool shoes with a leather and suede combination, so the effect is more subtle.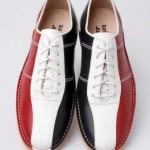 The Bowling shoe looks great with jeans out and about on a sunny afternoon . I have always liked the look the Smart Skins did in the 80's with Cherry Reds, of mixing a little black polish to go in the cracks to give shade to the boot, make it look older.
The Rudeboy loafer we sell has the Oxblood effect of black and cherry colour combined and looks great. It goes really well with jeans or a suit. Also Delicious Junction sell a two colour brogue, white/black and the very cool, Tan/White.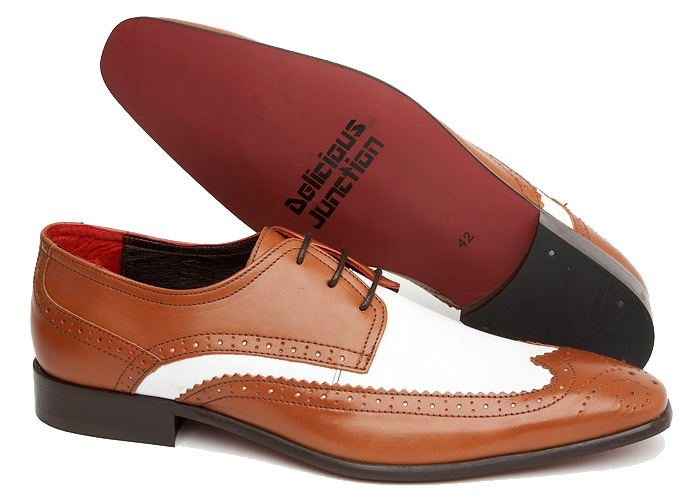 Is there a conclusion!
Well there are shoes that
I dislike and would not wear
those I like to look at but not to wear
those that just look and feel spot on !