Christmas & Returns
Our Christmas returns is extended, meaning not the usual 28 days, so items brought as a present can be brought now, and returned after Christmas. The final day back to us is Friday Jan 7th.

Customer Questions for Mod Shoes
Below is a list of questions that we are frequently asked. Hopefully you will find some information to help you here. If not, please feel free to use the chat facility, we will try and get back to you within 24 hours (weekdays)
There are separate pages for Delivery – Refunds – Sizing – Contact Us – About Us
Can I ring about my order ?
Yes but we only work office hours.
Can I visit your shop ?
Customers can visit by appointment only. Please email or call our team to arrange beforehand.
Please be aware that we work from an office & warehouse rather than a shop, so no items are on display. Because of this, we ask customers wishing to visit to check style and stock availability on the website prior to making their journey.
How quickly will i get my shoes ?

We dispatch every week day. If we receive your order by 1pm we will aim to dispatch the same day. DPD is next day delivery, Royal Mail can take up to a week. Obviously this will be longer if you are outside the UK.
Where is the place to add my coupon code?
There are 2 places, one on the checkout page and one on the basket page. Screenshots below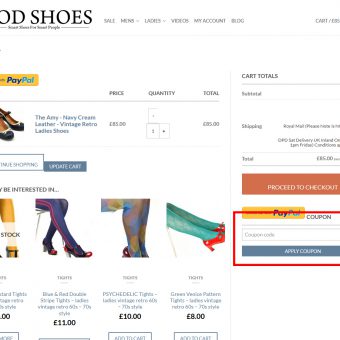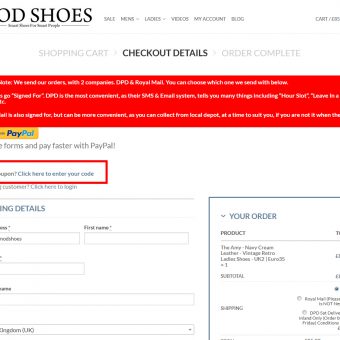 These shoes look like they have been worn ?
Please note we do not send out any shoes that have been worn. We do sometimes send out sale price shoes that have been tried on only. So occasionally in very few cases, they may be a small crease where someone has tried the shoes on before. It should be noted that leather shoes will crease almost immediately, and small marks can appear on leather soles just by rubbing together in the box during transit.
Where are you based?
Modshoes Address & Returns,
28 Stapledon Road,
Orton Southgate
Peterborough
PE2 6TD,
UK
Where Are Your Shoes Made?
"Can you Hold A Pair Of Shoes For Me Till I Get Paid ?"
We get asked to hold shoes every now and again. Sorry but this is something that cant be done. Various reasons, one being that, for you to buy the shoes that have to be on the website. Also we do offer Clearpay so that you can part pay a small amount, over several weeks
We do always try to help our customers, but we are business, and as such need to sell items quickly. :-)
Waitlist
As you may be aware, many of our shoes, especially the ladies ones, are limited edition runs. In many cases there are literally only 30 pairs of shoes in one colour total ! So as you would expect, some sizes sell out very quickly.
Depending on the shoe, we have to take the decision whether to run that colour and style again. So to help us to make that decision we run a waitlist to gauge popularity.
The Waitlist Function allows these things to happen;
1. As soon as stock comes in you get first notice via email.
2. We can judge whether the shoes should be re-made sooner.
So can we advise that even if you add your name to the waitlist, there is still a chance that a shoe might not be remade or restocked.
To answer the question "why can't we always have stock of all shoes in all sizes?" We buy from small factories, but they have minimums, meaning that unfortunately we can't just buy one pair of shoes, we have to buy a sizeable amount. The reason being that it takes time for the factory to set up the production for that particular shoe. So in some cases we would end up having to buy many shoes, just to sell one pair, the rest would then sit on the shelf, which we think that you would agree, is wasteful.
Hopefully this makes the situation clearer, as we would hate to mislead our customers.
Terms and Conditions
These terms and conditions relate to goods, which you offer to purchase from the Mod Shoes online store ("our/this website"). Please read these terms and conditions, which govern your use of this website and our supply to you of any goods which you offer to purchase through our on-line facilities.
We will be unable to process any offer to purchase goods until you have done so. If there is anything you do not understand, please feel free to e-mail us at despatch@modshoes.co.uk
CANCELLING YOUR ORDER
Mod Shoes try to get your order out as soon as possible. To cancel your order you can email us at despatch@modshoes.co.uk Unfortunately it will not always be possible to stop the order if this has already been picked up by the delivery company so Mod Shoes will not be liable for the postage and packaging costs should this be the case.
SALE ITEMS
Sale items are sale items because we will be running down this line. In this case we wont be able to offer you a refund on the shoes, unless they are faulty. All shoes are checked before they leave here. On sale items we will offer you a credit on a further purchase, for the price of the item.
VAT & TAX
UK orders are subject to VAT, as are European orders. Outside the UK VAT will automatically be taken off on the checkout page, once your address, and country have been validated.

What is Clearpay?
Clearpay is a service that allows us to offer our customers the ability to make purchases now and pay for them in four equal payments made every 2 weeks without any interest.
Clearpay orders are a little different to regular orders in the fact that your payment is contracted through Clearpay.
It essentially means that Clearpay pay us for an order, and it is then the customers responsibility to pay Clearpay the agreed value until goods are paid off.
Terms and conditions of using Clearpay to buy good from Mod Shoes.
– A Clearpay account is needed to receive this service.
The financial responsibility is held between the customer and Clearpay, and Mod shoes cannot be held liable for any issues relating to payments.
– Returns on Clearpay orders are processed the same as any other order, but please be aware that returns can take up to 3 working days to be processed by our office.
– The customer remains responsible for any due payments should they arise during the return process.
– Refunds will be processed by our office as quickly as possible, but please note that it is Clearpay that must finalise the refund after we have requested it. This can take up to 7 working days as per Clearpay's terms and conditions.
– Information on any pending monies can be viewed via the customer's Clearpay account.
– Mod Shoes do not have access to a customer's Clearpay account, and are unable to assist with this part of a transaction.
– Please contact Clearpay directly should any payment issues arise.
Please see Clearpay's terms and conditions for full information regarding payments etc.
https://www.clearpay.co.uk/en-GB/terms-of-service
VALIDATION CHECKS
All payment card holders are subject to validation checks and authorisation by the card issuer. If the issuer of your payment card refuses to authorise payment to us, we will not be liable for any delay or non-delivery. In addition, in the interests of preventing fraudulent use of credit, debit and charge cards, Mod Shoes will validate the names, addresses and other information supplied during the order process against commercially available records (e.g Electoral Roll data, Credit Reference Services). A third party may also be instructed to complete these checks. By ordering from the www.modshoes.co.uk website you consent to such checks being made. We may need to contact you by letter, telephone or email to verify details before we are able to process and dispatch your order or we may be unable to accept your order. Any information given may be disclosed to a registered Credit Reference Agency which may keep a record of the information. All information provided will be treated in accordance with the Data Protection Act 1998. These measures are taken as extra protection for you, to ensure your online shopping experience with us is as safe and secure as possible.
Data protection – We do not share any data collected via our website with any 3rd party partners
GENERAL
Mod Shoes reserves the right to refuse any order.
HEAD OFFICE
Modshoes Address & Returns,
28 Stapledon Road,
Orton Southgate
Peterborough
PE2 6TD,
UK