Returns during at Corona19
At this difficult time we understand returns may not be straight forward, Royal Mail are still able to deliver returns back to us, DPD some shops (i.e. food shops) can take returns when you have the FREE Returns label. Please note we are on Skeleton staff and whilst we will endeavor to deal with your return ASAP, it may be outside of our control to fully rectify problems.
INTRODUCTION

Customer Questions and Testimonials for Mod Shoes
Below is a list of questions that we are frequently asked. Hopefully you will find some information to help you here. If not, please feel free to use the chat facility, we will try and get back to you within 24 hours (weekdays)
Do I have to pay postage?
We offer free delivery on orders over £40. On orders less in value the postage charge is £2.95. This applies to UK orders only. Wherever possible we send the next working day, but our stock is very popular, so occasionally there are times when we are waiting for stock to arrive. If this is the case we will email or text you to let you know.
We use two different carriers to send your parcels. On most UK mainland orders over £50 we use DPD next working day tracked and signed for delivery. If you wish to choose Royal Mail signed for instead, you are able to do so on the order form.
For UK orders under £50 we use Royal Mail signed for.
Do you send to countries outside the UK?
We send to many countries, the full list is at the checkout. Postage cost to EU is £12, rest of world £25. They are sent by Royal Mail tracked and signed for.
What if I'm not in ?
You will receive a text and/or email from DPD asking if you have any delivery instructions. You can let them know if you would prefer an alternative time, or ask for them to leave in a safe place
What happens if they don't fit ?
As long as the shoes are in perfect, unworn condition, we are happy to exchange or refund. However the cost of return is the responsibility of the customer. We recommend Royal Mail 2nd Class Signed For as the most cost effective and safe option for returns.
If in doubt about your size, you can order 2 pairs and return the unwanted pair for free (full price shoes, UK inland only)
More Info https://www.modshoes.co.uk/refund-policy/
How to ensure that the shoes are a good fit
1. Try the shoes on a floor / surface, which is carpeted , meaning it is NOT going to scratch the bottoms, ideally you should be sitting down
2. Make sure that you undo the shoes fully, enough to get the shoes on easily, do not force your feet in.
3. Use a shoe horn if necessary
4. The shoes should be snug but not tight
5. Please make sure that your feet are warm, ideally we advise trying on after 12 mid day when your feet are at their biggest
6. If the shoes are snug, but you can still move your toes, you should be good as they will grow a little
7. If the shoes are tight or just a bit too snug for comfort, please stay seated for at least 10 mins , ideally 20 mins. If the shoes are still too tight please send them back for a bigger size
8. Can we stress that if you wear the shoes, and they even show any sign of wear (eg scratches or marks on sole, scuffs or creases in leather) we can not give you a refund.
9. The reason we can't give you a refund if the shoes show signs of wear, is because we only like to sell the best shoes, and customers expect their shoes to turn up in tip top fresh condition. If shoes are returned in less than perfect condition, we are unable to re-sell.
10. If you do decide to wear the shoes out, to an event, just up the road etc, to see if they loosen up, then sorry we can't refund them, as you have broken the termas and conditions for exchange.
Non UK Returns
We are happy to accept returns, however if you wish to have a replacement sent there will be an additional delivery charge.
More Info https://www.modshoes.co.uk/refund-policy/
How does the sizing work?
We use the following size conversions. Please be aware that different designs are designed to be bigger than others. We try our best on the product page to mention sizing.
Men's Sizes
| | | | | | | | |
| --- | --- | --- | --- | --- | --- | --- | --- |
| UK | 6 | 7 | 8 | 9 | 10 | 11 | 12 |
| Euro | 40 | 41 | 42 | 43 | 44 | 45 | 46 |
| US | 7 | 8 | 9 | 10 | 11 | 12 | 13 |
Please Note that are shoes are made mainly in Spain & Portugal and Euro to UK Conversion means that the shoes normally come up a little big. The reason is that a 43, is more like 9 and 1/4 .
Ladies Sizes
| | | | | | | | |
| --- | --- | --- | --- | --- | --- | --- | --- |
| UK | 2 | 3 | 4 | 5 | 6 | 7 | 8 |
| Euro | 35 | 36 | 37 | 38 | 39 | 40 | 41 |
| US | 4.5 | 5.5 | 6.5 | 7.5 | 8.5 | 9.5 | 10.5 |
Please Note that are shoes are made mainly in Spain & Portugal and Euro to UK Conversion means that the shoes normally come up a little big.
How much time do I have to return them?
Any returns must be back to Mod Shoes within 30 days. This is currently consumer law. If you decide to send them back after 30 days, Mod Shoes will simply put them back in the post to you. I know this sounds a bit harsh but it is company procedure
More Info https://www.modshoes.co.uk/refund-policy/
Can I ring about my order ?
Yes but we only work office hours. Use the chat contact form on the website, it is checked often and responded to.
How do I send them back?
All return information, including cut out address label is on the invoice. Please do not forget to include the paperwork and your instructions ie refund or exchange request. Please return in the original packaging.
More Info https://www.modshoes.co.uk/refund-policy/
How quickly will I get my money back?
We process returns as quickly as possible, but it could take a few days. If you have paid by Worldpay the funds can take a little longer to show in your bank account. We will email you to let you know that your refund has been processed.
Can I visit your shop ?
We are not an actual shop,  but we are happy for our customers to visit our unit in Peterborough. Please ring first though, as we are not always here.
How quickly will i get my shoes ?

We dispatch every week day. If we receive your order by 2pm we will aim to dispatch the same day. DPD is next day delivery, Royal Mail can take up to a week. Obviously this will be longer if you are outside the UK.
Can I have my delivery sent to my workplace ?
We are happy to send to a different shipping address. But please note, we will only deliver to the address, not a next door neighbour, unless we have your permission.
I have got wide feet, do you have shoes suitable for me ?
We do not make shoes specifically for wide feet, but there is a section on the website showing shoes that are more suited to the wider foot
Where is the place to add my coupon code?
There are 2 places, one on the checkout page and one on the basket page. Screenshots below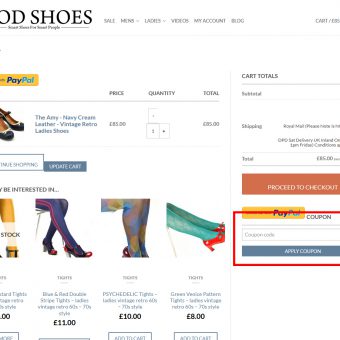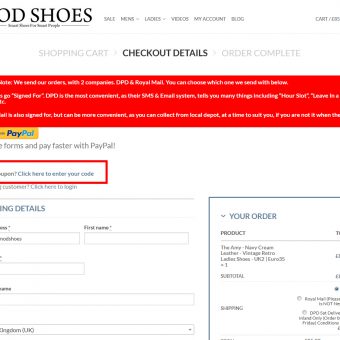 These shoes look like they have been worn ?
Please note we do not send out any shoes that have been worn. We do sometimes send out sale price shoes that have been tried on only. So occasionally in very few cases, they may be a small crease where someone has tried the shoes on before. It should be noted that leather shoes will crease almost immediately, and small marks can appear on leather soles just by rubbing together in the box during transit.
Where are you based?
Mod Shoes
UNIT 39 & 40 ASTON PARK,
SHREWSBURY AVENUE,
WOODSTON,
PETERBOROUGH,
CAMBRIDGESHIRE,
PE2 7BF,
UK
Waitlist
As you may be aware, many of our shoes, especially the ladies ones, are limited edition runs. In many cases there are literally only 30 pairs of shoes in one colour total ! So as you would expect, some sizes sell out very quickly.
Depending on the shoe, we have to take the decision whether to run that colour and style again. So to help us to make that decision we run a waitlist to gauge popularity.
The Waitlist Function allows these things to happen;
1. As soon as stock comes in you get first notice via email.
2. We can judge whether the shoes should be re-made sooner.
So can we advise that even if you add your name to the waitlist, there is still a chance that a shoe might not be remade or restocked.
To answer the question "why can't we always have stock of all shoes in all sizes?" We buy from small factories, but they have minimums, meaning that unfortunately we can't just buy one pair of shoes, we have to buy a sizeable amount. The reason being that it takes time for the factory to set up the production for that particular shoe. So in some cases we would end up having to buy many shoes, just to sell one pair, the rest would then sit on the shelf, which we think that you would agree, is wasteful.
Hopefully this makes the situation clearer, as we would hate to mislead our customers.
Terms and Conditions
These terms and conditions relate to goods, which you offer to purchase from the Mod Shoes online store ("our/this website"). Please read these terms and conditions, which govern your use of this website and our supply to you of any goods which you offer to purchase through our on-line facilities.
We will be unable to process any offer to purchase goods until you have done so. If there is anything you do not understand, please feel free to e-mail us at despatch@modshoes.co.uk
DELIVERY TIMES
In many cases orders are shipped next working day.
International: Please allow up to 14 working days for delivery. There are rare occasions where items get stuck in customs in the local country. For instance we have sent to the same address in the USA, one time it took 4 days, next time it took 3 weeks.
DELIVERY CHARGES (Per Order)
UK Inland inc Northern Ireland – Free (as long as above £40)
Southern Ireland and European delivery cost – £9.95
Worldwide delivery cost – £25
Any taxes or duty fees incurred by shipping to overseas addresses are the responsibility of the customer and these costs cannot be reclaimed from Mod Shoes.
EXCHANGES AND REFUNDS
Please see our page on Returns & Refunds here
CANCELLING YOUR ORDER
Mod Shoes try to get your order out as soon as possible. To cancel your order you can email us at despatch@modshoes.co.uk Unfortunately it will not always be possible to stop the order if this has already been picked up by the delivery company so Mod Shoes will not be liable for the postage and packaging costs should this be the case.
SALE ITEMS
Sale items are sale items because we will be running down this line. In this case we wont be able to offer you a refund on the shoes, unless they are faulty. All shoes are checked before they leave here. On sale items we will offer you a credit on a further purchase, for the price of the item.
VAT & TAX
UK orders are subject to VAT, as are European orders. Outside the UK VAT will automatically be taken off on the checkout page, once your address, and country have been validated.

What is Clearpay?
Clearpay is a service that allows us to offer our customers the ability to make purchases now and pay for them in four equal payments made every 2 weeks without any interest.
Clearpay orders are a little different to regular orders in the fact that your payment is contracted through Clearpay.
It essentially means that Clearpay pay us for an order, and it is then the customers responsibility to pay Clearpay the agreed value until goods are paid off.
Terms and conditions of using Clearpay to buy good from Mod Shoes.
– A Clearpay account is needed to receive this service.
The financial responsibility is held between the customer and Clearpay, and Mod shoes cannot be held liable for any issues relating to payments.
– Returns on Clearpay orders are processed the same as any other order, but please be aware that returns can take up to 3 working days to be processed by our office.
– The customer remains responsible for any due payments should they arise during the return process.
– Refunds will be processed by our office as quickly as possible, but please note that it is Clearpay that must finalise the refund after we have requested it. This can take up to 7 working days as per Clearpay's terms and conditions.
– Information on any pending monies can be viewed via the customer's Clearpay account.
– Mod Shoes do not have access to a customer's Clearpay account, and are unable to assist with this part of a transaction.
– Please contact Clearpay directly should any payment issues arise.
Please see Clearpay's terms and conditions for full information regarding payments etc.
https://www.clearpay.co.uk/en-GB/terms-of-service
VALIDATION CHECKS
All payment card holders are subject to validation checks and authorisation by the card issuer. If the issuer of your payment card refuses to authorise payment to us, we will not be liable for any delay or non-delivery. In addition, in the interests of preventing fraudulent use of credit, debit and charge cards, Mod Shoes will validate the names, addresses and other information supplied during the order process against commercially available records (e.g Electoral Roll data, Credit Reference Services). A third party may also be instructed to complete these checks. By ordering from the www.modshoes.co.uk website you consent to such checks being made. We may need to contact you by letter, telephone or email to verify details before we are able to process and dispatch your order or we may be unable to accept your order. Any information given may be disclosed to a registered Credit Reference Agency which may keep a record of the information. All information provided will be treated in accordance with the Data Protection Act 1998. These measures are taken as extra protection for you, to ensure your online shopping experience with us is as safe and secure as possible.
Data protection – We do not share any data collected via our website with any 3rd party partners
GENERAL
Mod Shoes reserves the right to refuse any order.
HEAD OFFICE
Modshoes
UNIT 39 & 40 ASTON PARK,
SHREWSBURY AVENUE,
WOODSTON,
PETERBOROUGH,
CAMBRIDGESHIRE,
PE2 7BF,
UK