PLEASE Refer to the Individual item for sizing advice. We do our best to answer this question on each product. Can we also make it know, we do our best to make sure we 'Standardise' our sizing, but different people like different fits. On each of the products there are reviews from 'Genuine Customers' which we hope helps you. In the video below we show how, the same size different style, have implications.
Buy 2 , Keep One & Return The 2nd For FREE* (T&Cs Apply)
We know it can sometimes be a struggle buying online. Sizing, Styling etc, So we have introduced a new scheme to make it easier for you to decide.
To qualify for a free DPD return label, please see the below:
SHOES
Option 1: You place an order of 2 of the same style in different sizes (E.g size 6 and 7)
Option 2: You place an order for 2 different styles, so can decide which you prefer
CLOTHING
Option 1 only: You buy 2 identical garments (i.e. same colour etc, just different size).
You can then try on both in the comfort in your home, so that you can compare and contrast between them to see what fits best.
TO QUALIFY:
1: The value of each individual item (Shoes and Clothes) must be more than £65 each.
2: You MUST order both items at the SAME time. Separate orders will not qualify and this will not be offered retrospectively.
3: This excludes all sale/reduced items.
4: This offer is valid for UK Mainland only. Excludes Islands, Scottish highlands and North of Dundee.
Once you have decided on which item best fits/suits, simply follow the instructions on the label that will be supplied.
Then repackage the items and stick the label to the outside of the returning parcel. Then simply drop it off at one of over 2500 locations in the UK.
*Please do not ask for a label if you have placed 2 or more separate orders for the items, as we will not offer a free label, and it will only disappoint when we say no.
*The items have to bought at the same time, in the same order.
*UK Mainland Only (Excludes Scottish Highlands and north of Dundee)
Offer can be withdrawn at any time, without prior consent
I have got wide feet, do you have shoes suitable for me ?
We do not make shoes specifically for wide feet, but there is a section on the website showing shoes that are more suited to the wider foot
How does the sizing work?
We use the following size conversions. Please be aware that different designs are designed to be bigger than others. We try our best on the product page to mention sizing.
Men's Sizes
| | | | | | | | |
| --- | --- | --- | --- | --- | --- | --- | --- |
| UK | 6 | 7 | 8 | 9 | 10 | 11 | 12 |
| Euro | 40 | 41 | 42 | 43 | 44 | 45 | 46 |
| US | 7 | 8 | 9 | 10 | 11 | 12 | 13 |
Please Note that are shoes are made mainly in Spain & Portugal and Euro to UK Conversion means that the shoes normally come up a little big. The reason is that a 43, is more like 9 and 1/4 .
Ladies Sizes
| | | | | | | | |
| --- | --- | --- | --- | --- | --- | --- | --- |
| UK | 2 | 3 | 4 | 5 | 6 | 7 | 8 |
| Euro | 35 | 36 | 37 | 38 | 39 | 40 | 41 |
| US | 4.5 | 5.5 | 6.5 | 7.5 | 8.5 | 9.5 | 10.5 |
Please Note that are shoes are made mainly in Spain & Portugal and Euro to UK Conversion means that the shoes normally come up a little big.
For More Info See Our
Returns & Refunds Page
Customers Faqs Page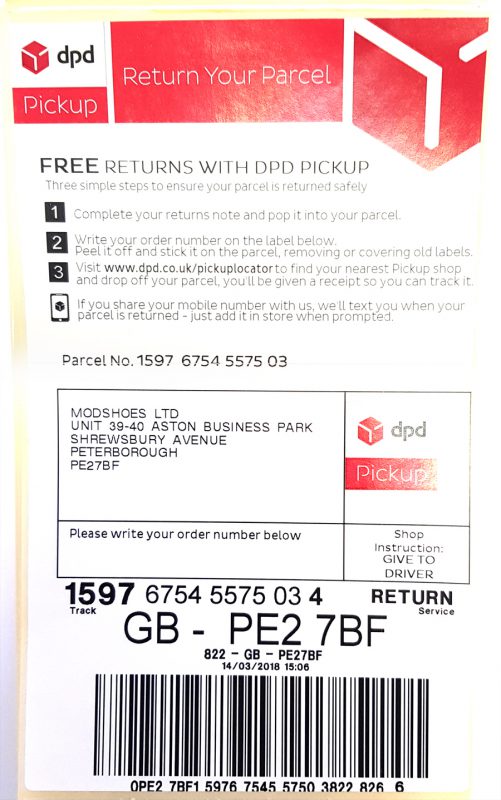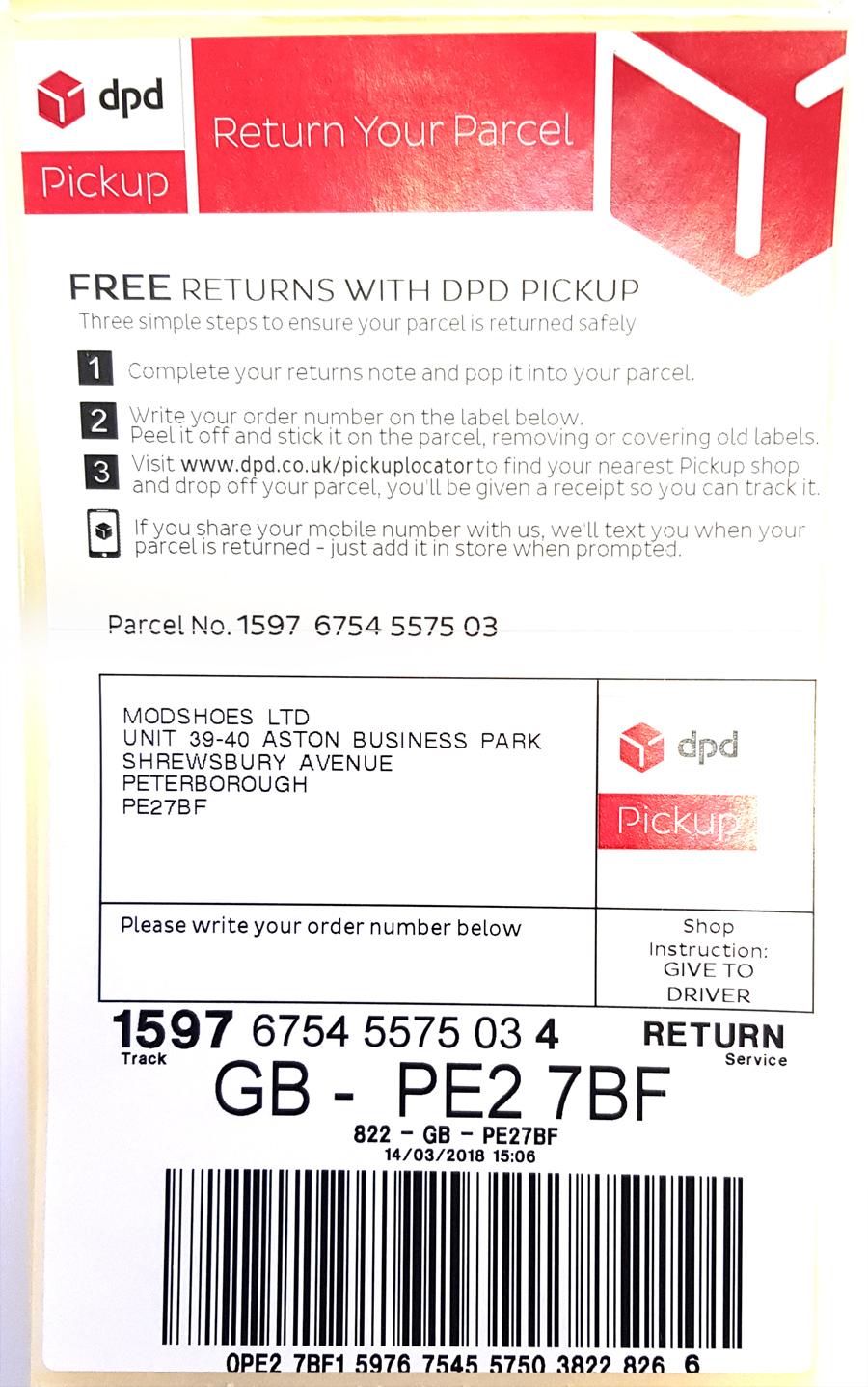 T&Cs
You have to buy 2 or more pairs of shoes
You have to take the shoes to the DPD drop off location (there is no picking up from your house, place of work etc) https://www.dpdlocal.co.uk/apps/shopfinder/index.jsp
DOES NOT INCLUDE SALE ITEMS
If you decide to return both (or more) we DONT pay for all the shoes
This is UK ONLY mainland only. It doesnt include Northern Ireland, Isle of wight, as they go across water and cost a lot more by DPD.
Multiple shoe order i.e. you have brought 2 pairs to try for size will be sent with DPD. Sorry due to costs we cant send 2 pairs with Royal Mail. If you have selected royal mail on the checkout page, we will change this to DPD on despatch.
This is DPD service only, not available for royal mail
It is your responsbility to check the drop off location is open
The normal 30 days returns still apply
There is only 1 returns label. Meaning if you buy 4 pairs, kept 1 and send back the rest, you would pay for the 3rd and 4th pair.
What happens if they don't fit ?
As long as the shoes are in perfect, unworn condition, we are happy to exchange or refund. However the cost of return is the responsibility of the customer. We recommend Royal Mail 2nd Class Signed For as the most cost effective and safe option for returns.
If in doubt about your size, you can order 2 pairs and return the unwanted pair for free (full price shoes, UK inland only)
More Info https://www.modshoes.co.uk/refund-policy/
How to ensure that the shoes are a good fit
1. Try the shoes on a floor / surface, which is carpeted , meaning it is NOT going to scratch the bottoms, ideally you should be sitting down
2. Make sure that you undo the shoes fully, enough to get the shoes on easily, do not force your feet in.
3. Use a shoe horn if necessary
4. The shoes should be snug but not tight
5. Please make sure that your feet are warm, ideally we advise trying on after 12 mid day when your feet are at their biggest
6. If the shoes are snug, but you can still move your toes, you should be good as they will grow a little
7. If the shoes are tight or just a bit too snug for comfort, please stay seated for at least 10 mins , ideally 20 mins. If the shoes are still too tight please send them back for a bigger size
8. Can we stress that if you wear the shoes, and they even show any sign of wear (eg scratches or marks on sole, scuffs or creases in leather) we can not give you a refund.
9. The reason we can't give you a refund if the shoes show signs of wear, is because we only like to sell the best shoes, and customers expect their shoes to turn up in tip top fresh condition. If shoes are returned in less than perfect condition, we are unable to re-sell.
10. If you do decide to wear the shoes out, to an event, just up the road etc, to see if they loosen up, then sorry we can't refund them, as you have broken the termas and conditions for exchange.