Recently there have been some discussions going on, over whether or not tassel loafers are  MOD!
Now this got me thinking, and it can be argued that some Tassel Loafers are perhaps more Smart Skin or even Suedehead, but I recall seeing plenty of people that call themselves MODS wearing them as well. I would also argue some smart skins I know, are more fussy about their clothes than some Council Estate Mods I also know .
Interestingly the guy that does the deliveries for Modshoes was a Mod in the sixties and had a pair of Loake Brightons. But that was then and not now.
So if Tassel Loafers are not MOD, like some people on the net would have you think, surely it would follow that if you went to a mod club, you wouldn't see any, would you?
So, armed with my camera, I went to the Jelly Roll Club in Peterborough, where I live. Jelly Roll's music policy is very firmly RnB, Soul, and 60s Ska. I would say the clientele there are a cross section of people, about 65% mod, some scooterist types, and the rest are people into the music, but not the fashion as such.
There are a number that constantly make the effort to look smart, and yes there are defo some strutting in their peacock suits. And why not? It is the weekend, no work tomorrow and it is the chance to hang out with your mates and listen to some cool music, and if you fancy, a boogie.
Now being the owner of a Shoe website I am constantly checking out the shoes.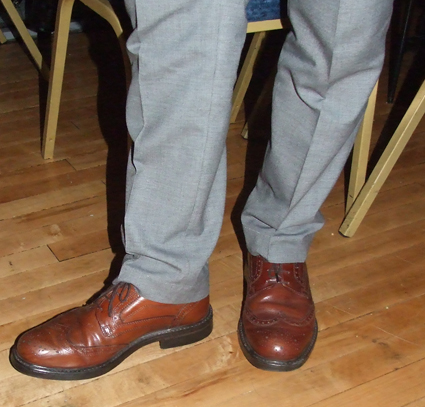 First picture is Mick, who has not loafers, but some Oliver Stone Brogues. Massive British beat fan and a great collection of Yardbirds records.
Next up is my mate Terry Grant. Yep loafers, no tassels, but I know Terry has several pairs at home. Terry is a mod legend, has impeccable taste and can wear any colour better than most I know. Yes his shirt is cerise pink, and yes it has pink cuff links! When not dazzling people with his dancing, he has been known to DJ and sings in garage band, Substation 66 and the Sonic Buzz.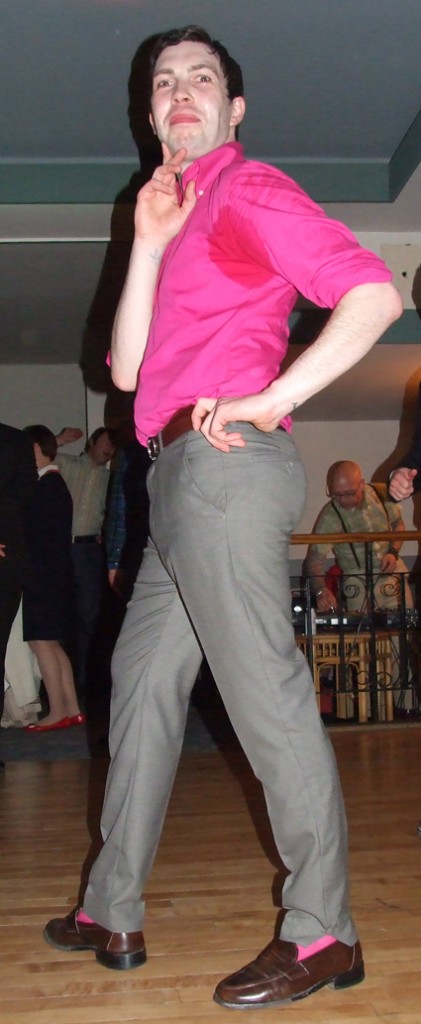 On being asked are Tassel Loafers mod? Terry spoke for an hour before saying YES!!
Next up are the youngest people to be featured, and MODS new breed, Aaron and Warren. Two lads discovering the wonderful world of mod. Warren has smart Oxford style shoes, but young Aaron on the left has Tassel Loafers!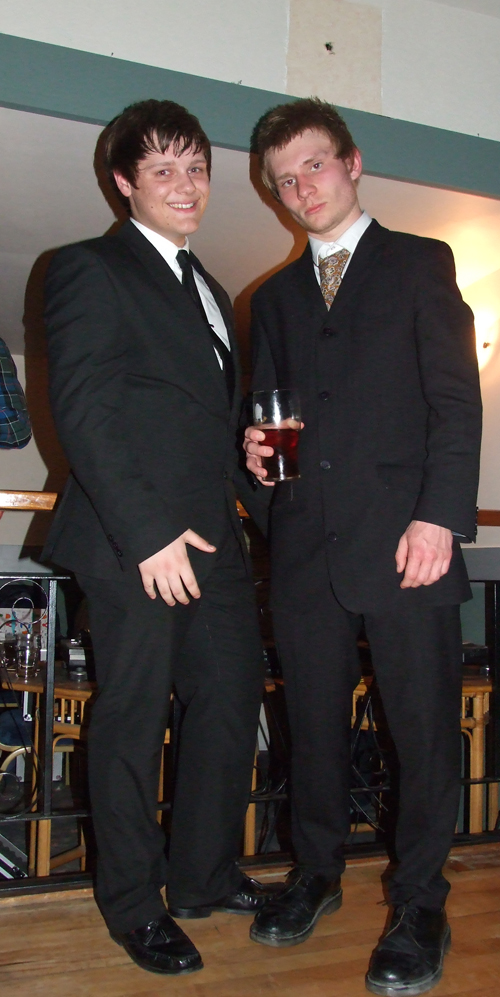 Next up are Darrin Clark and the club's main guy, Mister Julian Roberts. Darrin is wearing Dune Weavers and Julian, well I forgot to ask, sorry. Both guys are top lads and always very smart.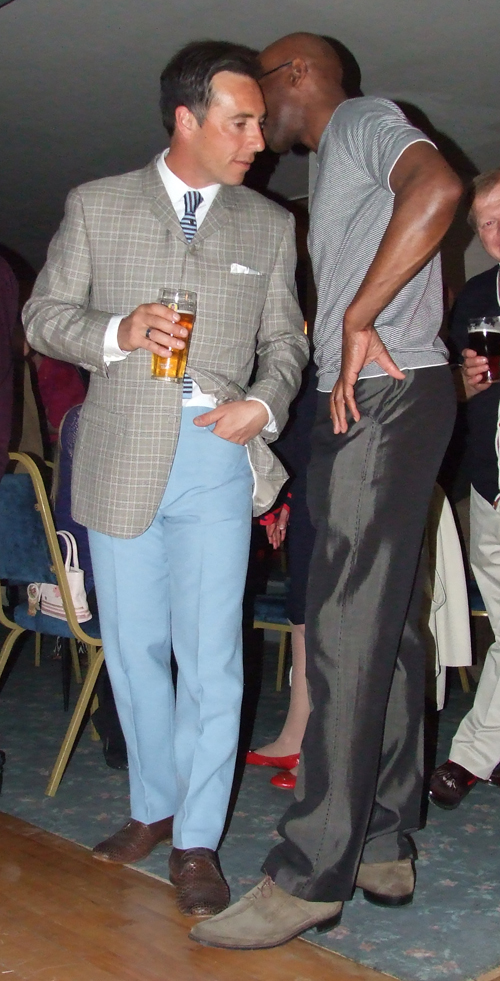 Another pair of Tassel loafers, and these belong to Paul Bromley. I like the oxblood, red sock and sand colour. Paul and his lovely wife Suzie have been into Soul Music forever. They both travel over the UK to various events. Anyways on his feet, Loake Brighton Tassel Loafers in Oxblood.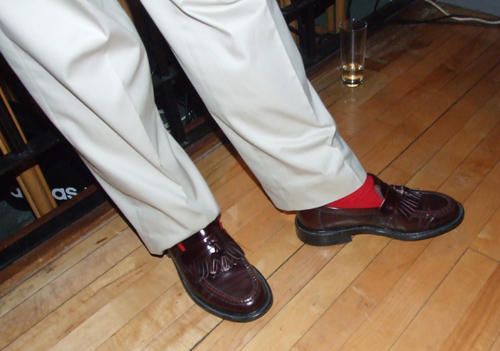 Next up is London Steve, and guess what he doesn't even live in London , he lives in Kent. On his feet, Delicious Junction rudeboy loafers in oxblood. Steve is a cool guy and loves a boogie to Northern Soul and 60's Ska. The lady with him, is my wife, Nicky.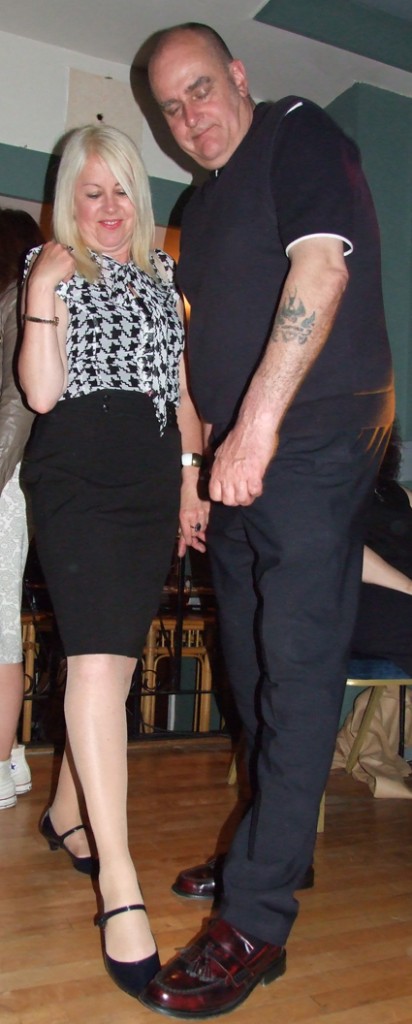 The next collection of guys is Gary, Martin and Paul. Gary is the fella on the left, he did tell me the make of the shoes, but I had one too many whiskies by then. Gary always looks great and has been into the mod thing forever. Martin and Paul I believe are both wearing Bass Weejuns, they will correct me no doubt when they read this. I know Martin and Paul have Tassel Loafers, Paul's being Bass Weejuns.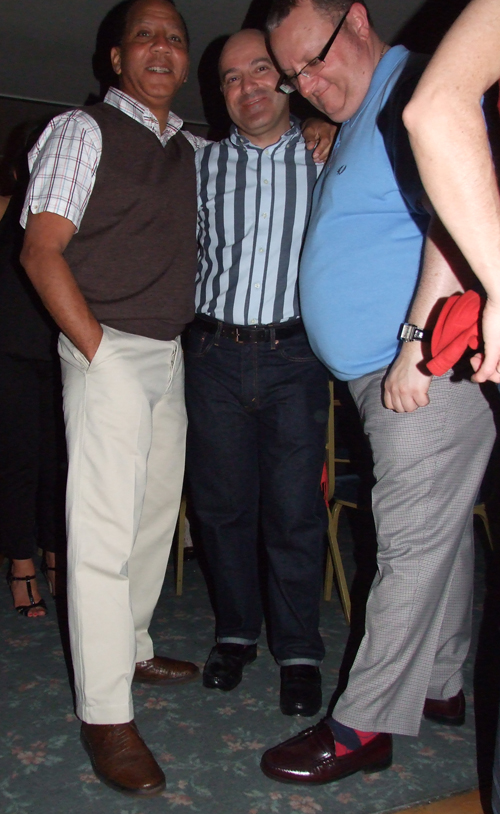 So, you may be thinking, what's your point Andy? Well to me MOD doesn't, as such, have a rule book. Meaning there are certain styles which are classic MOD, and some that just look MOD when they are all put together as an outfit. All the people above enjoy being part of a scene and looking their best.
Some MODS favour the dandy look, some the suit, some a quality button down etc, or knit wear etc. Meaning that their look looks good and right to them. So if that means the Rudeboy Loafers is what they want, then happy daze.
So still you are asking Andy, what you trying to get at? Well we had someone on Facebook saying that some of the shoes we sell aren't MOD! And implying that we should not even call ourselves modshoes at all!
Now I am made of tougher stuff than to let one person annoy me. But what aggrieved me was, imagine you are a young lad getting into the scene and you have some smart arse saying , thats not mod! And you have just saved up for it, or you actually think it looks smart, because it is, why should some bully who thinks they are right be allowed to belittle you?
Facebook is a great thing because it allows people who are into similar things to hang out and be friends , when in real life you stand little or no chance of ever meeting. But it also allows narrow minded idiots a place to preach. My advice is to follow the great man.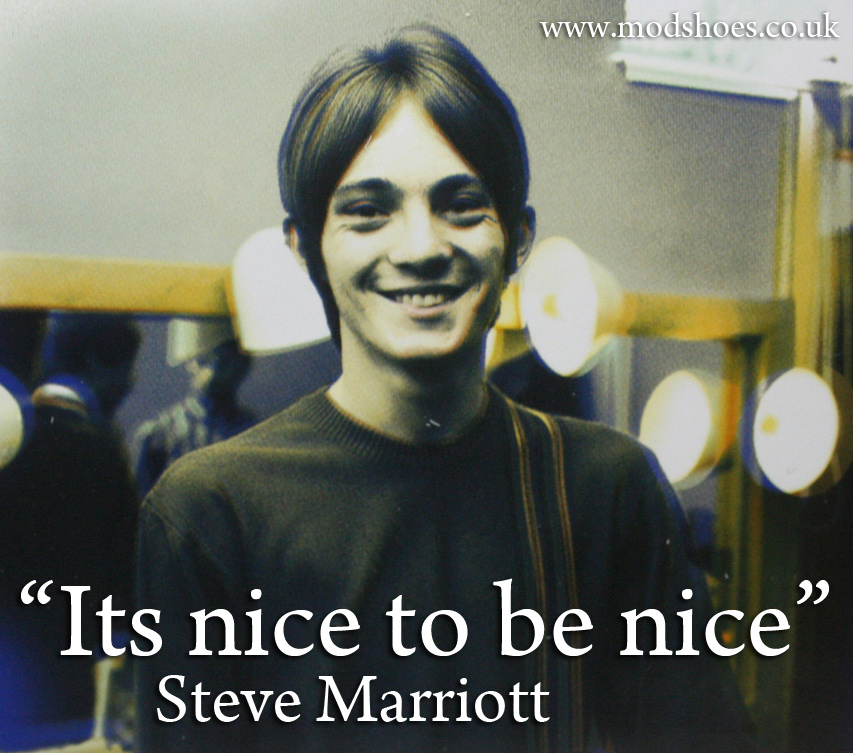 We call this website MODshoes , because that's what most of our audience align themselves with, and our tag line is "Smart Shoes for Smart People".
So did this article prove for once and for all that Tassel loafers of various styles are MOD? Yes I think it did!
£

120.00
UK6 | Euro40
UK7 | Euro41
UK8 | Euro42
UK9 | Euro43
UK10 | Euro44
UK11 | Euro45
UK12 | Euro46