Earn 10 Reward Points by commenting the blog post

Are tassel loafers with feathers MOD?
I ask the question because reading around a few sites on the net and talking to some MODS they feel that the 'feathered loafer' really is a Ska, Rudeboy or even Skinhead shoe. The kinda of people saying this though, do tend to be of the 60's mod end of the scale! But to counter argue, I know lots of lads that are more street mod, revival or dare I say it scooter MODS, that think they are great!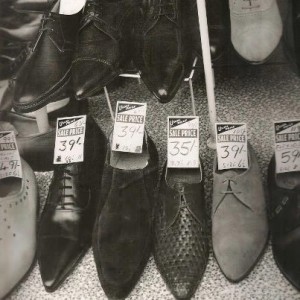 So what's the history?
Looking around the net at the 60's guys in pictures where you can even see the shoes, it looks like more thinner soled leather shoes. There are plenty of Chelsea boots as well. The first you see of the Classic Tassel Loafers is the smarter side of the Original Skinheads.
Now I think this may be where the confusion starts, where did MOD stop and Skinheads start!
Certainly I think outside of London, the MOD fashion would have carried on developing. I also think that outside of London money would have been tighter and also availability. Which leads me to a conclusion that you would want a shoe that's going to last, because you probably didn't have the money to buy another pair of shoes for a while, and if you even had the money where would you buy them?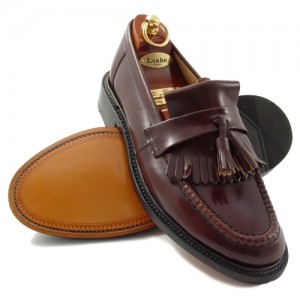 I have been told by several 60's mods from around here that you could get Loake Loafers, but you had to hunt them out. I dont know about Bass Weejuns, but again I am sure these were a Modern Jazz shoe. Loakes make sense here in the midlands because it is so close to Northampton and the major British shoe manufacturers.
Loake have been making the Brighton style Tassel Loafer since the 60's. And it sold well throughout the 70's especially in the Northern Soul circles.
The Loake Brighton is heavy looking shoe and the style that has been adapted by Delicious Junction and Ikon for their classic Feathered tassel loafer. A lighter tassel loafer, with feathers is a spainish variety I have seen some people in and this has more rounded toe section. Both varieties of shoes seem to divide the opinion of MODS

In this picture you can see 2 distinct styles of the Tassel Loafers with Feathers. The first two pictures are of a 'Bostonian' i like these, i especially like the brogue at the front of the shoe. The 2nd pair are by Ralph Lauren. Both styles are a Fancy perhaps even Dandy shoe, and not a mile away from a Female Tassel loafer !
So back to the question.
So the above history is why i think the Feathered Tasseled Loafer is thought of as a MOD shoe. Similarly the classic MOD scooter has a great big whip Ariel , but you don't see any of them in Richard Barnes MODS book.
So moving onto the Mod Revival, again this period got intwined with the Two-Tone phase. A lot of styles got muddled between a lot of the younger fans of The Jam and The Specials. Certainly for this author, I had several pairs at school. I loved both bands and thought the line between the bands and their followings wasn't that far apart. Meaning we were as happy listening to The Specials 1st lp as we were to Sound Effects!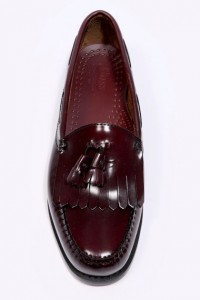 And again I think this might be why we think of the shoe as a MOD shoe. it wasn't till later into the 80's that people starting looking further than the bands and into 60's soul, and that I think, is why MODS starting looking for more stylized loafers.
As the decade progressed some MODS turned into casuals and went for a more casual style, similar to the Delicious Junction Paolo Hewitt style shoes. Some MODS went for the Bass Weejun style and I can remember from rallies and seeing pictures of London Mods going in this direction, which as you would expect, filtered out across the rest of the UK.
Then the shoe faded away and I think only recently come back with what is known on the scooter scene as 'born agains' And the tail end of the Britpop era of Oasis etc.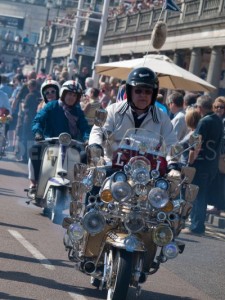 The next point I think is very important. The 'Born Agains' are older, which is obvious, but more importantly they had/have more money and wanted the things they had when they was younger, but better!
A lambretta or Vespa is not the cheap option anymore and neither are the accessories! And shoes , along with clothes, fit into this neatly. I have spoke with several customers on the phone and they say, ' I want the ones I had at school, but better' or ' I always wanted a pair because my older brother, mate etc had a pair and always fancied some for myself one day'
More evidence is the poll that's has been running on this site recently (oct – nov 2012) Tassel Loafers with Feathers has come up top.
So without getting into the bigger argument of what is even MOD, MOD as we know "is a very broad church" (copyright Eddie piller) , and so what one person thinks is spot on, another thinks is ugly!
So what do I think ? and possibly conclude !
I think that 'Tassel Loafers with Feathers' are MOD, in the same way I think The Specials are MOD. Perhaps not pure MOD, but then neither is Northern Soul and i can think of plenty more examples of other things that are not pure MOD.
So for that reason, we included them on MOD shoes.
Disagree ? Then write telling me why below.
SHOES WE SELL:
£

120.00
UK6 | Euro40
UK7 | Euro41
UK8 | Euro42
UK9 | Euro43
UK10 | Euro44
UK11 | Euro45
UK12 | Euro46