Earn 10 Reward Points by commenting the blog post

What can be said about the Tassel Loafer, to me they are the Street MOD shoe. The tassel along with the feather exsudes MOD. Again, I think this is because so many people have had a pair. Other than the Desert Boot nothing signifies more of what the public think as MOD.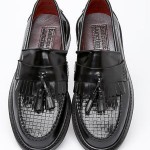 They go in and out of fashion and are definitely a throw back, but why not. They are a shoe for going out in! They are a shoe to dance in, all night. They can come with leather soles which means you slide around a dance floor.
They look excellent with jeans, and a suit. I think you get my drift.
Like the rest of the classics loads of people make them, and again buy the best you can afford. Cheap ones look cheap and fall apart. Looked after well and polish straight after an all-nighter, you don't want the talc drying them out.
Tassel Loafers Review
Delicious Junction, Loake, Ikon and Bass Weejuns get a review. 4 different types of Tassel Loafers, including a womens pair!
SHOES WE SELL:
£

199.99
UK6 | Euro40
UK7 | Euro41
UK8 | Euro42
UK9 | Euro43
UK10 | Euro44
UK11 | Euro45
UK12 | Euro46
HISTORY:
Tassel loafers came into being in the post-war period of the 1940s, right when tweed jackets, Shetland sweaters, and penny loafers dominated prep schools and Ivy League campuses. As college students graduated, they wanted something as comfortable as their slip-ons, but were a bit dressier and more sophisticated for their new life in the business world. It was around this time that an actor named Paul Lukas came back from Europe with a pair of oxfords. They had little tassels at the end of their laces, which Lukas thought made them look more lively. So he took them to a couple of New York shoemakers to see if they could make something similar, and they in turn took the job to Alden. The company's president at the time, Arthur Tarlow, came up with tasseled loafers and they were an instant success. That makes Alden's model the original, and Paul Lukas the first man to wear this style of footwear.
The above is taken from the website http://putthison.com/post/30457460870/the-charm-of-tassel-loafers-i-really-like-tassel
PICTURES: