Oxblood Tassel Loafers
The Tassel Loafer (or Tassle Loafer) is a classic Mod style. For me it started with The Specials and the Two Tone movement of the late 70's. In many of the pictures, the band can be seen in a cross blend of MOD, Skinhead & Rudeboy style. And on their feet a mixture of shoes, but two favorites, Brogues and off course Tassel Loafers.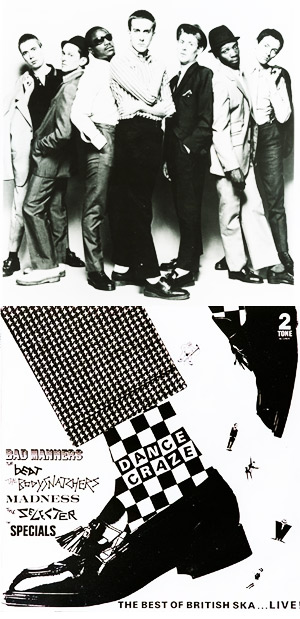 The tassel loafer is a variation on the Penny Loafer. Examples of the shoes can be seen certainly in the 50's with the IVY League look, Alden's and Bass Weejuns everywhere. The original shoe was a copy that Alden made, I believe in the 30's. The Alden loafer is more pointy than the traditional MOD loafer.
As we know a lot of the look for MODS and Early Skinheads was taken from the IVY League look and I also think the Jamican Rudeboy look. The Jamican look I assuming came also from Black America!
Recently I have been trying to find Blue Note, Modern Jazz players wearing the shoes, but no luck yet, but I do seem to think this may also be why the shoe in on the scene.
Style wise, there several variations, Bass Weejun just have the Tassel, where as Loakes Brightons come with the feather. IKON is very similar to the Loake. Delicious Junction, who we stock, do both styles. The Merton is very like the Bass weejun and the Rudeboy, as it name suggest has the classic feathers.
The Rudeboy has the leather upper and sole. Stitching at the back of the shoe and a hi shine. Meaning the shoe looks great straight out of the box. To me the box is important as well, as I like to keep my shoes in tip top condition, so a decent box means I can keep them on top of the wardrobe out of harms way.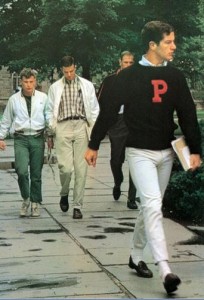 Colour wise, the shoes comes in 3 colours, Black, Brown & the very Popular Oxblood. The Oxblood colour is not a pure colour, but very nice effect in a cherry red , which has had a slight bit black shoes polish added which gives it a Vintage look. If you look at the picture you can see the effect. It reminds me a lot of the look that Trad Skins went for in the 80's when they were trying to distance themselves from the OI Boys.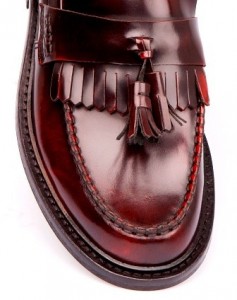 The shoe as always looks great with a suit and jeans. Looked after the leather upper and leather bottom will last ages. I personally have a pair and they are really comfy and not at all like the cheap shoes I had as a 2nd generation mod in the 80's.
The Oxblood Tassel Loafer is a very popular style with us, feel free to ask questions.
SHOES WE SELL:
Tassel Loafers Review
Delicious Junction, Loake, Ikon and Bass Weejuns get a review. 4 different types of Tassel Loafers, including a womens pair!