I must have looked at The Who in pictures a thousand times. They are one of the most photographed bands of the 60's, loads and loads of reasons for this being far beyond this article. What this does mean though is that there are a good number of shots of their feet, some of which are in colour.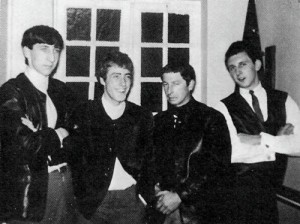 So let's start near the beginning, pre- Who and pre-High Numbers, The Detours are just another London band.
Fashion-wise they are not jumping out. I couldn't find any good pictures of the feet!
It took Pete Meaden and some money from xxxxx to get messers Townshend, Daltrey, Entwistle and Moon into some decent gear. It is common knowledge that Daltrey was to be the face and the others the numbers, hence the smart looking two tone shoes for him. Interestingly, Entwistle was given some Boxing Boots which he took an instant dislike to, claiming later that he walked through a puddle to make them dirty!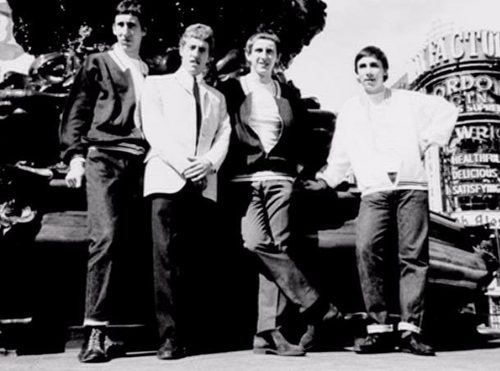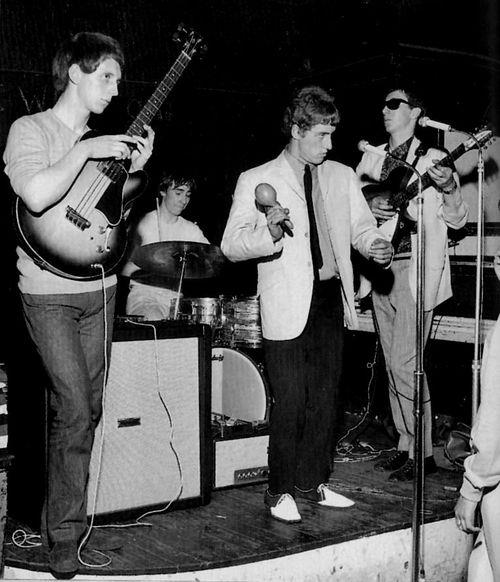 Early on, the band go through desert boots, boxing boots, Chelsea boots, and even monkey boots. As with any groovy top band from the time, The Who paraded in Carnaby fashion.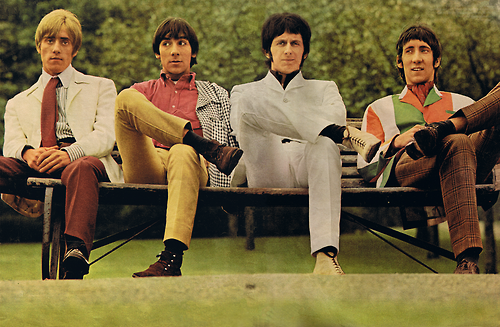 Below you can see Pete wearing some two colour shoes. The shoes look like part leather and part cord. I have no idea on the make, but I think they date from around 65/66. Harrison and Marriot had similar pairs.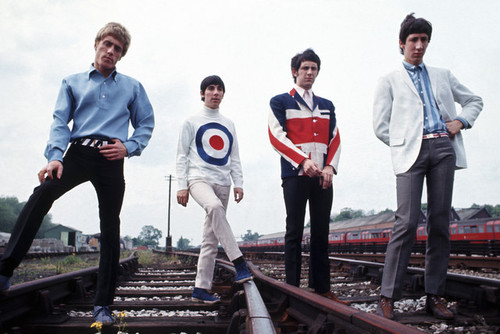 Daltrey has a lovely pair of what I think are blue pumps. Moon also follows the theme with some cool looking blue desert boots; notice as well the White/Cream sole!
What I really like about the picture is that the colour of the shoes matches with something else in the outfit. You can't quite see Entwistle's boots, as they are more of a brown colour, which is not matching anything!
I asked Peter "Dougal" Butler who was Keith Moon's assistant and driver about Keith's shoes. He kindly replied with this.
"Mod era in London i remember Topper's & a shop called Ravel. By the mid 70s to 80s Ravel was in every big town. i think Keith got his boots from (chelsea boots) from Anello & David in Drury lane late 60's Chelsea antique market & Kensington market"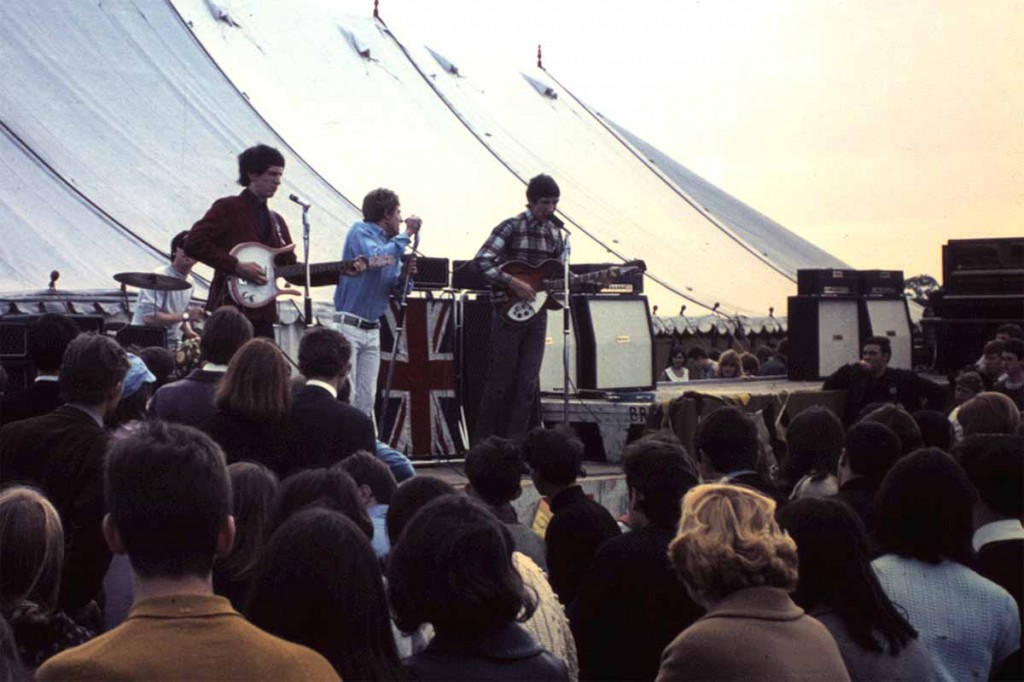 In the picture below Moon once again has desert boots with a white sole on, and again they match with his clothes. I know we are meant to be looking at the shoes, but have you seen Daltrey's jacket? Black suede with a leather collar! How cool!
Daltrey and Entwistle are both wearing Chelsea Boots here, and I think the shoes Townshend has on have been worn by him in several shots, spanning a year! I seem to recall someone saying he liked handmade shoes, I know I have heard the name of the make before but I can't quite recall it, I think it might've been Rivilio!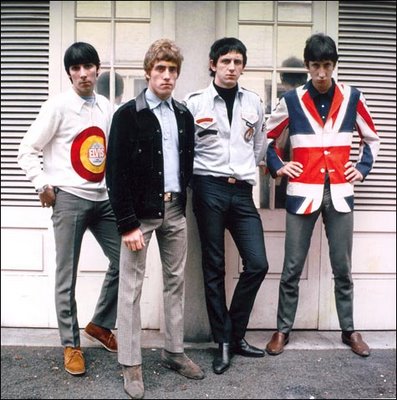 On the famous My Generation cover, three of the band are in Chelsea Boots again, but like in the previous picture, the outfits they combine them with make them look even better. Moon looks so good with the simple colour combinations, and his legs look so slim. Daltrey also pulls off the jean jacket.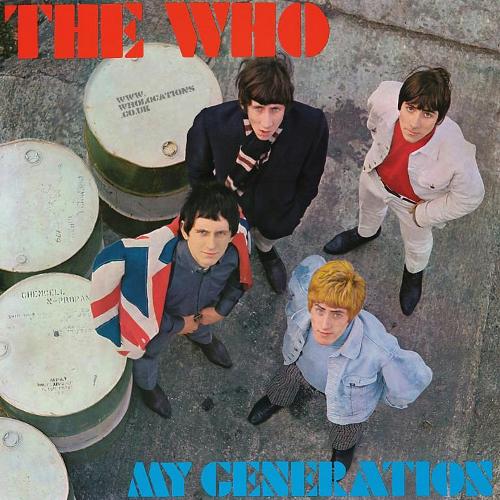 By the end of the sixties the band turned into rock gods and Daltrey became the consummate rock performer. Shoes-wise, it was more boots with an American influence; I won't go into too much detail in this article, apart from to mention that Townshend wore boots well into the 80's. I also heard him say in an interview that he liked the 'every man nature of working boots' meaning that whilst everyone else was glam, he wanted to be mundane!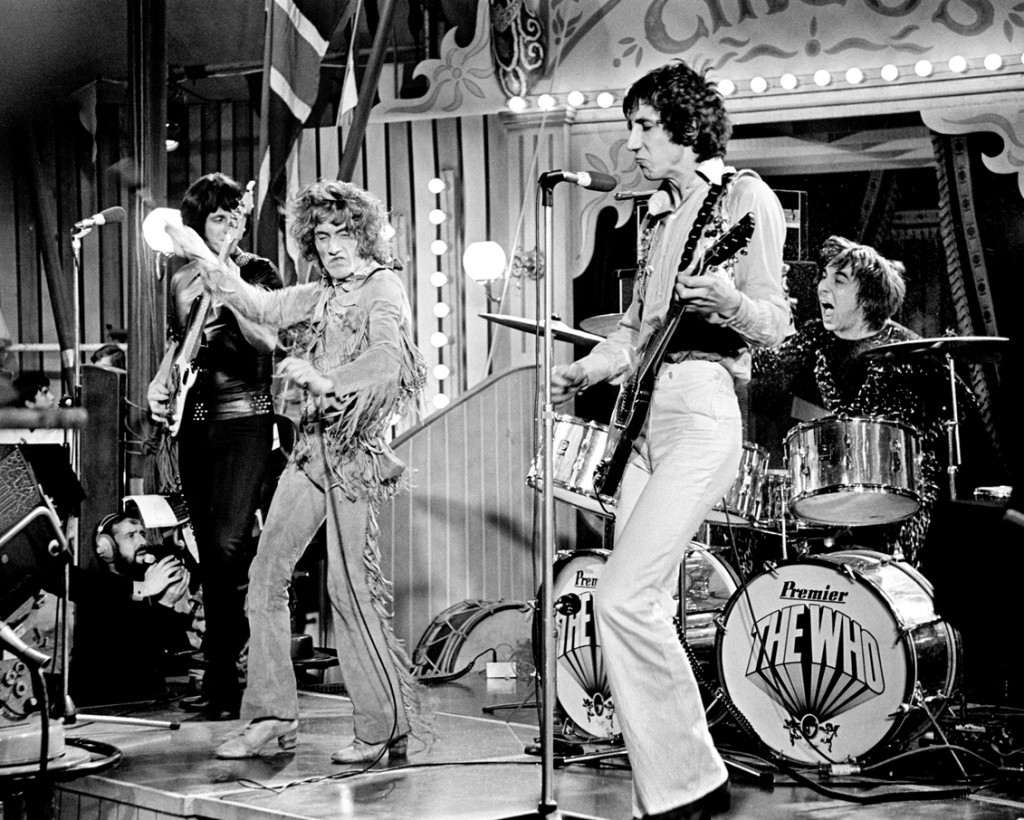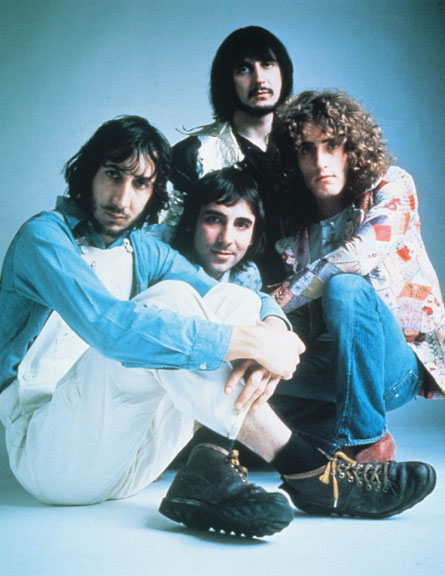 To end this article I would like to conclude that The Who played the mod card well for as long as they needed to. Meaning that, like all bands at the time, they followed, and also formed fashion. Whilst it may have suited them, they also looked good and dressed to match the music they were making.
Despite what we think and want to believe, image is as important to a band as the music they play, and The Who (or their friends around them did) worked this out very early on.
One of the GREATEST BANDS EVER and that's a fact.
Some of the shoes we sell that relate to this article: