A short review of these very stylish Orange, Yes ORANGE cord shoes.
The shoes are part of the DJ range of shoes, This one is the Rawlings. The shoes comes in 3 colours Green, Purple and the one in review here Orange.
I have worn some green ones 4 -5 times now to various events. The shoe has been very comfortable. The style hugs the foot and is not for a very wide foot. What i was surprised about was the sole, it felt hard to touch and thought it may not prove good to wear. I was wrong on this, the hard sole made it slip very nicely around Mod Club The Alley Club dance floor recently.
The suede upper has nice cord effect and if i am honest i thought would be more expensive shoe. Certainly i think it would sit well with some more high level shoe makers. But this is where i think DJ have done us good again, good looking shoe at a great value.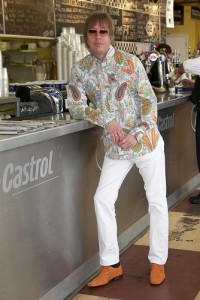 One thing that has been debated is what colours will go with the Orange. We think this
Dark Blue suit
Black Suit with another spot of orange somewhere
White jeans and very light green or orange short.
Yes dark blue demin
and possibly a dark brown suit
I welcome peoples thoughts on this. Below are some pictures of Mr Darrin Clarke wearing his recently. I think Darrin got it right, the suit looks nice with the shoes and notice the hanky in the pocket of the jacket. Also notice his very lovely wife with orange on as well.