What's better? Loake Royals or DJ Upsetters
I found myself asking that question 2 years. It wasn't so much what was better, more why was one so much more money. Could it really be worth twice the price of the other.
On the net the photos were ok, but neither pair of the oxblood brogues had anything more than the technical data, i.e made of leather. There was no background, no reviews and certainly no comparisons. Hence why I started the website, but that's another story.
What's better ? Well in the video you can see there are differences, the Loake Royal is a more wide fitting shoe, and certainly the widest shoe we do. The DJ is narrow, and very snug on my wide feet.
The DJ is much almost chisel toed, and certainly has more of a skin, 70's look about it. The DJ is advertised with yellow laces and again I feel this has a terrace skin feel.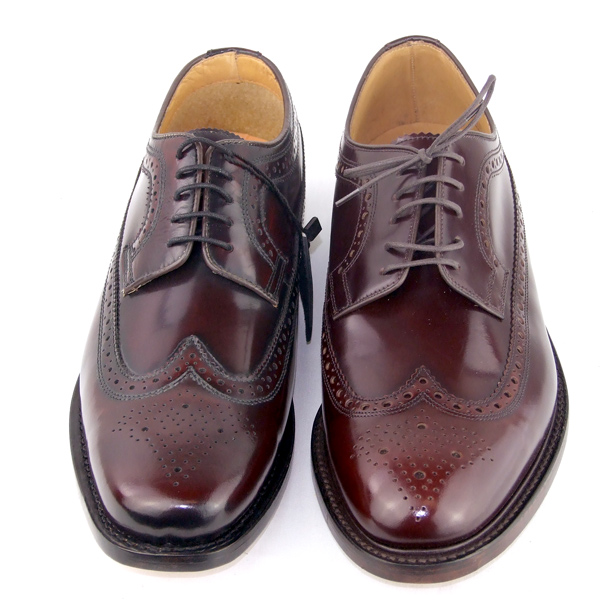 The Loake Oxblood Brogue in comparison is a much more conservative shoe, and I would say better for more occasions. I have mentioned before that it works well with jeans and a suit. I have seen a guy dressed up very smart for Remembrance Day here in the UK with a pair.
The sole on the DJ upsetter was only leather till recently, DJ have now upgraded to Goodyear welted sole and changed the name slightly to the Royale. Both shoes have a very sturdy pair of soles. The Loake are worn by a business colleague and show very little form of wear, despite being worn every day.
The Loake has a slightly better looking leather and I would concede more consistent shoe, meaning the stiching and cut of the shoe is better. BUT is it £75 more better !
Well that's for you to judge, I personally have a pair of Loakes, but would happily wear the DJ's.
What I would suggest is how often you going to wear them? What you going to wear them with. What's your budget. Once you have worked that out then choose a pair.
If you are young or cash is tight, then buy the DJs. They are half the price, which means you could then buy a pair of loafers another day. Meaning you get 2 pairs of decent shoes, for the same price as the Loakes.
On the other hand!
Buy the Loakes once, look after them and you are going to have a really decent pair of shoes for literally years, long after the thrill of a bargain has faded.
I hope that's helped a bit.
Andy
£

199.99
UK6 | Euro40
UK7 | Euro41
UK8 | Euro42
UK9 | Euro43
UK10 | Euro44
UK11 | Euro45
UK12 | Euro46
£

199.99
UK6 | Euro40
UK7 | Euro41
UK8 | Euro42
UK9 | Euro43
UK10 | Euro44
UK11 | Euro45
UK12 | Euro46