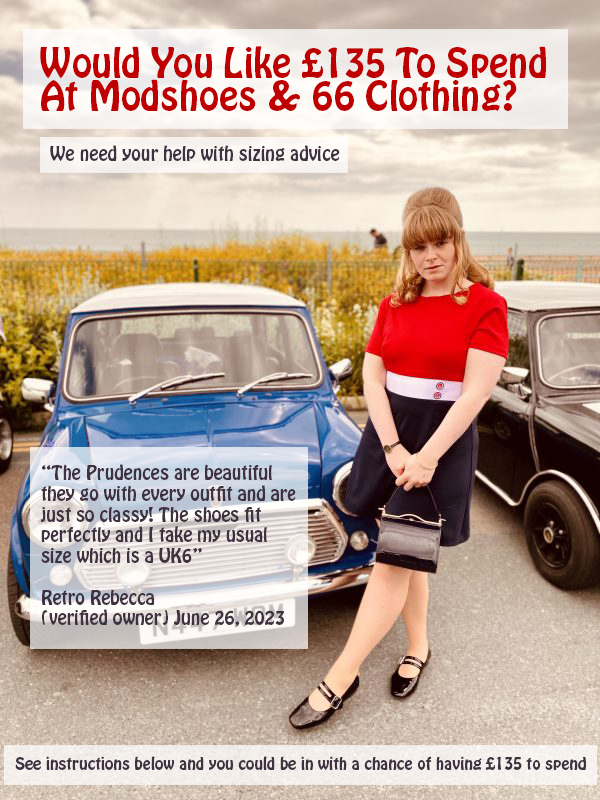 Would you like £135 To Spend At Modshoes & 66 Clothing?
We need your help with sizing advice, and thought what could we do that would be fun, but also help other potential customers.
We know buying shoes (and clothing) online is hard, we do our best to advise about sizing, and test many of the shoes we sell. We sometimes get asked, 'Why Cant Sizing Be Standard?' That's dead easy to answer, and 70s Tassel Loafers design is totally different to a 60s Chelsea boot.
So with that in mind, we need your experencies of how you got on with our shoes. We would like you to be constructive, i.e positive and helpful when leaving a review.
GET 5 EXTRA ENTRIES INTO THE GIVEAWAY BY UPLOADING A PICTURE OF YOU IN THE SHOES
How it works
1. Find the shoes (and/or clothing) you have brought from us
2. Scroll towards the bottom of the page and fill in the review section
3. In the actual review, it doesn't have to be 'War & Peace' but has to be helpful.
4. Add a picture of you in the shoes >> Remember you get extra entries
5. Press Submit
6. All entries will be verfied before your review goes live, this is to stop spam etc
Review Examples
'I have slightly wide feet, and these are a slim shoe, so I went a size up'
'I found the shoes slightly long, so went down a size from my normal size'
'I have several modshoes shoes, and have found this pair to be same, so stick with size'
Remember you can review as many of our products you have as you want, and add a picture and you get 5 entries from one review. 5 Reviews, each with a different picture, that 25 entries!
PLEASE NOTE, and can we stress this is about sizing and nothing else!
We are looking for postive reviews, and this is about SIZING. If you simply didn't like the shoes or perhaps the colour wasn't what you wanted, these reviews will be ignored and possibly deleted. You can mention colour, outfits you have worn or going to wear, but this is mainly about sizing.
Rules & T&Cs
The Giveaway closes 4th July @ 12pm
The winner will be drawn randomly on the 5th July 2023
All reviews from 27th June 2023 to 4th July 12 Midnight will be included in the draw, reviews from before, won't be included If you have previously added a review
No Cash alternative
This giveaway is in no way affiliated with Instagram, Facebook etc etc!
Giveaway open internationally
The prize is a voucher, you can buy worth more than £135, but you will need to pay the difference, like wise if you only want something worth £60 you won't get the cash refund
You can review clothing as well, and this will be added to the draw