Terry Towelling
For a cloth that seems so evocative of the 50's, 60's, 70's and 80's its somehow crazy that the basis for the material with its protruding loops of thread has been traced back some 4000 years BC, with pieces found that were woven in ancient Egypt and in pre-Columbian Peru. It's effectiveness in absorbing large amounts of water has meant that it has been used to keep people dry for many thousands of years.
It wasn't until the middle of the Victorian era that the material reached Europe, after travellers noted the material being used in Turkey. For years the material was called Royal Turkish Towelling and was bestowed Royal patronage by Queen Victoria and remained popular solely as a towelling material right up to the first World War.
Between the War's the French started to use the material for clothing and it underwent a name change of "French Terry" and "Terry Towelling", likely as a result of the French word " tire' " (pull) which give the loops their distinctive look as a result of the special looms used that have two longitudinal warps through which the weft is fired laterally. Despite the machinery involved it was a slow process and as a result Terry-Towelling (usually in pure cotton) was considered a luxurious and expensive material.
Fast Forward to the late fifties and it became a popular beachwear material. The quality had been further refined so that the outer side was smoother than the inside. (Unlike Towels where the looped material was on both sides). This made it a much more visually appealing as well as a practical garment.
Terry (French) Towelling hit the big screen courtesy of a belted baby-blue playsuit adorning the enigmatic James Bond as he lounged around the pool, pausing occasionally to pat ladies' bottoms, in the 1964 film Goldfinger. It took someone as masculine as the Sean Connery to pull off this quite camp look, especially with the shortness of the shorts.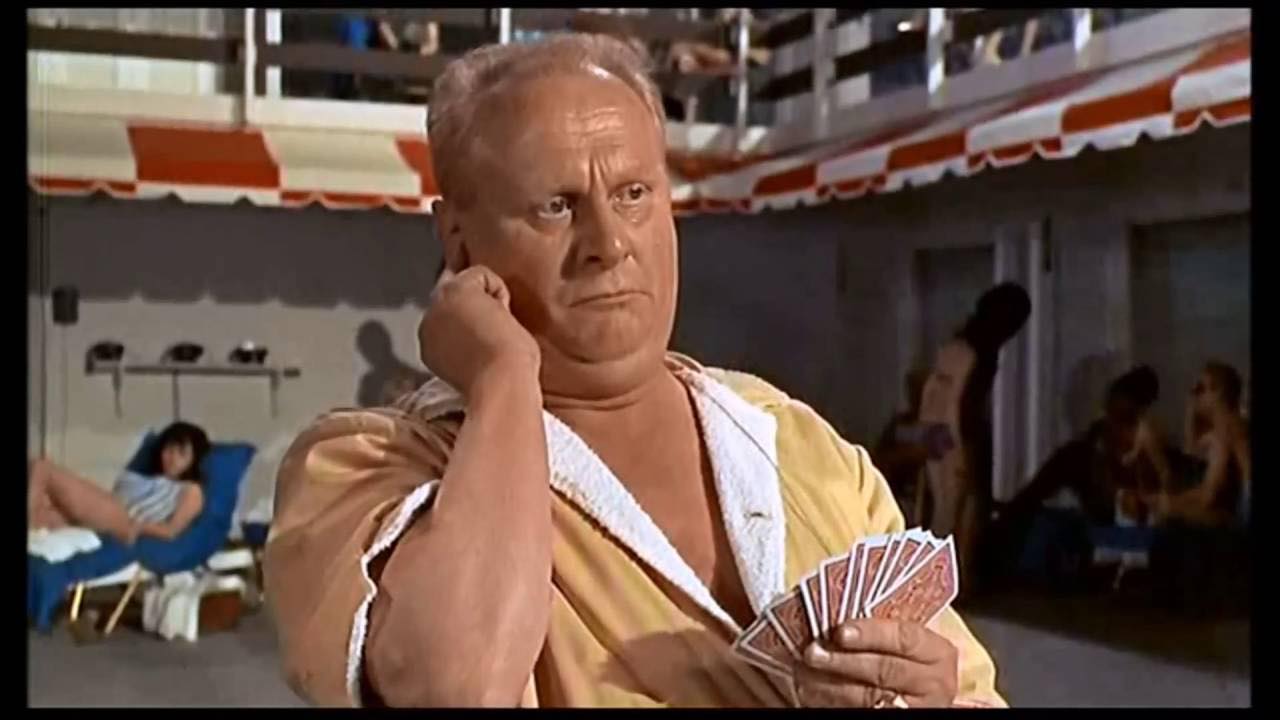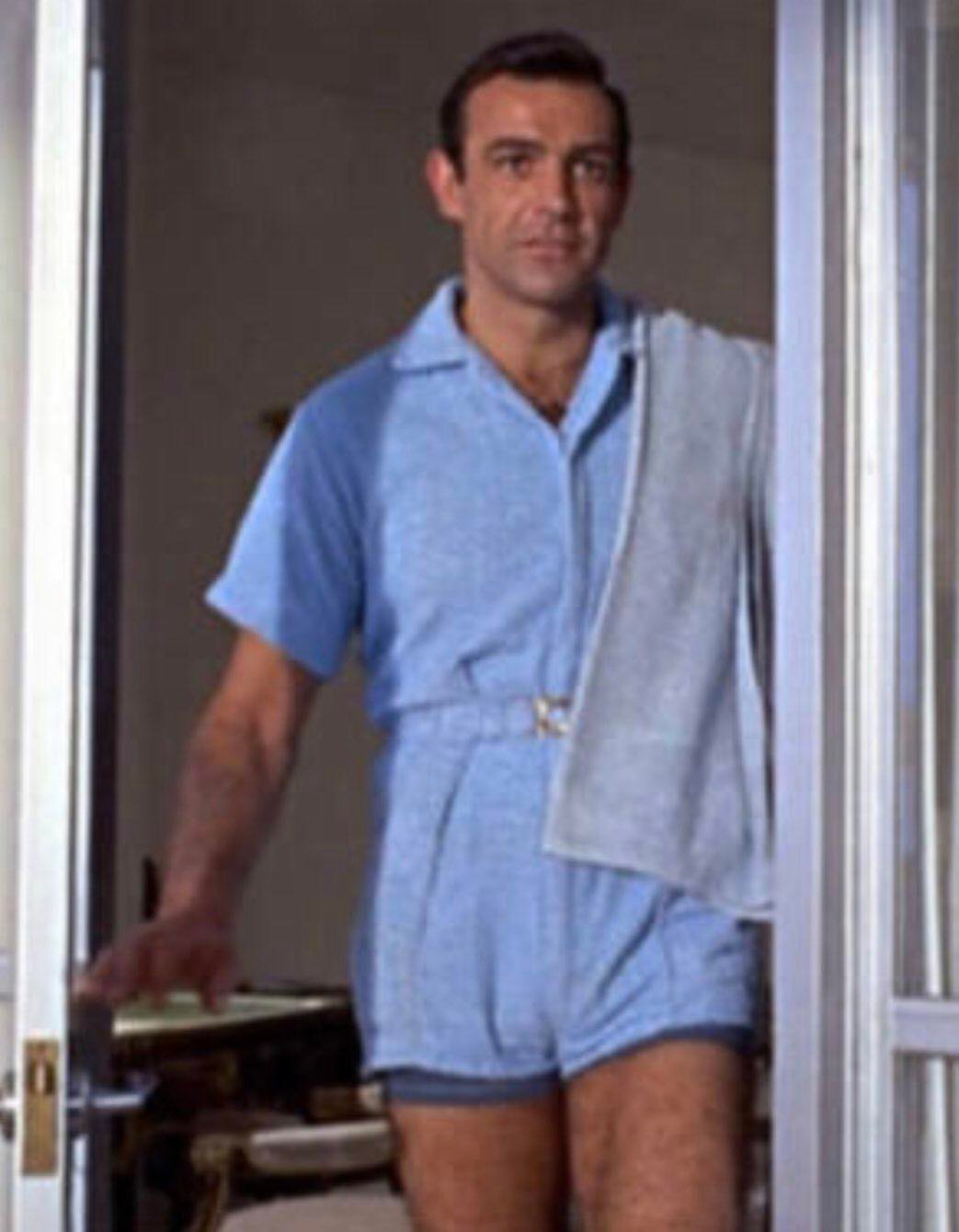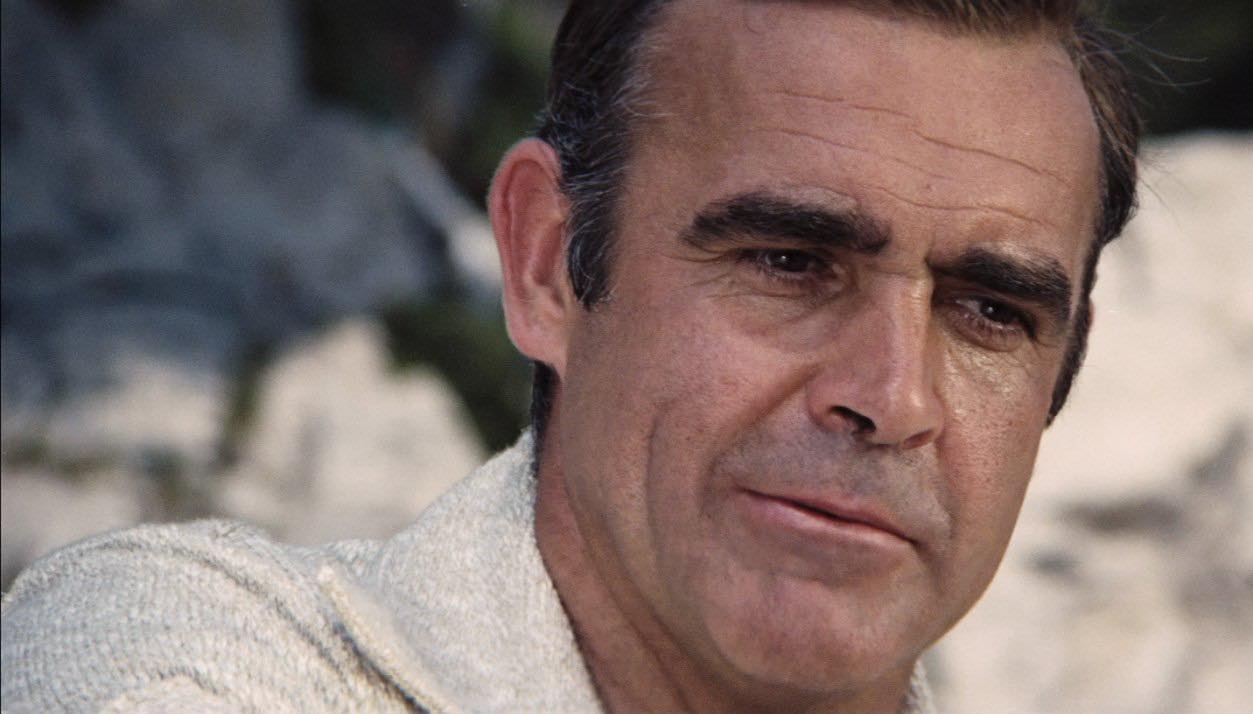 Auric Goldfinger also sports a terry cloth lined lounge shirt (in Gold naturally). Goldfinger, as a man of luxury should be sporting this material and appears both appropriately and fashionably dressed for poolside 1960's Miami.
Bond sports Terry Towelling in other films too. He appears in an oatmeal-coloured camp-collared Safari style shirt in Diamonds Are Forever, and of course Dr No. The Dr No Polo shirt is probably the most famous and a piece that has been a main stay of high-end fashion house Orlebar Brown's wardrobe. Ironically the original shirt in the film was a cotton pique and its style was appropriated by Orlebar Brown and remade in Terry Towelling and so the 'copy' has supplanted the original. Thankfully Mod Shoes have remade this item at a substantially more affordable price and yet no less stylish, looking as cool on the streets as on the sun-kissed beaches of the Caribbean.
Terry Towelling was used in a number of other areas too. It was a common material for nappies where its comfort and absorbency made it the ideal material to use. Perhaps its most familiar use was in the sporting world. I'm sure anyone reading this will remember the likes of tennis legend Bjorn Borg, Brighton Centre half Steve Foster and others sporting head and wrist bands as aids to absorb sweat during their endeavours.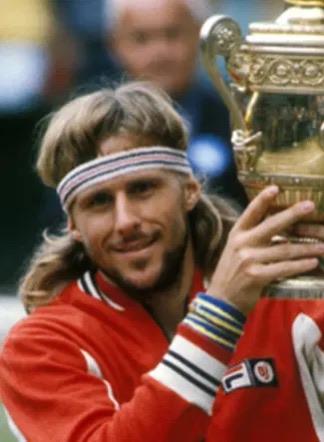 And, finally, of course, the ubiquitous white terry towelling sport sock. It's hard to say when these crossed over into the fashion world. Possibly the Mods were the first, with their love of magpie-like appropriation of sports and casual items. (Or maybe Sweet Gene Vincent with his "white face, black shirt, white socks, black shoes"). The look was also adopted by the Two-tone Rude Boys whose ankle height trouser hems were thrown into sharp relief by the pristine white flash of sock and who could forget The Jam when they burst onto the scene in monochrome suits and ties. White socks were the prevailing look of the Mod Revival and beyond. Not bad for a material some 6000 years in the making…