With Mods Mayday in Cambridge in a couple of weeks, and leafing through my mate Andy Cunningham's growing Mod Revival collection, I thought it was time to have a look at the shoes on the feet of so many bands from that time.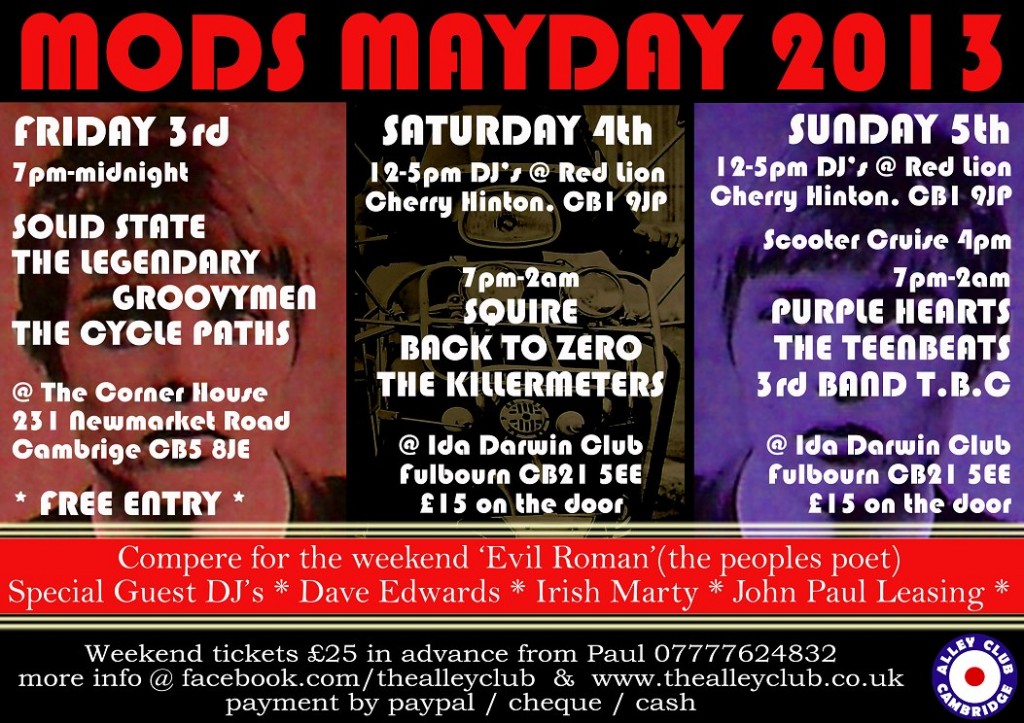 Fancy 3 days of Mod Revival Heaven then click here https://www.facebook.com/events/368036319952403/
I do want to say before we start, that I am not going to do The Jam. They really require several articles to themselves. I am going to include some Two Tone, because despite protests of not being strict Mod, they did influence literally 1000s of us. Also I am not going to go on about the merits of the bands, that's a book's worth of text.
So perhaps before any going any further you should go up in the loft and go and get down all that vinyl that has been left up there for too long. I did and I think I may have hurt myself!
The Circles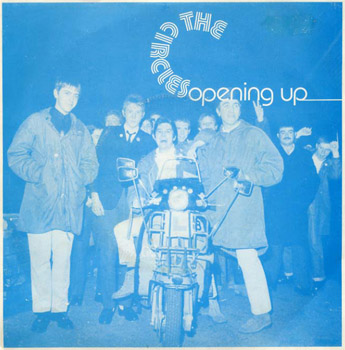 So I am going to start with The Circles. Why you ask? Well, they prompted this article. The Circles released 2 great singles at the time, and one later in the 80's. Opening Up, the bands debut, is a classic. The song is a strong one and is still played on rallies now.
There, on the cover, are all four members, 3 of them in Parkas. Mick Walker is centre ish on the Lambretta. I have met Mick a couple of times and he is a good fella, so I hope he doesn't mind me asking why the hefty boots? I like desert boots and white jeans. Shading wise it has always worked for me,and  to his left, Tony Howells is also in white jeans and desert boots. These boots look better. Both Keith Allen (in the parka) and Glenn Tranter, in the left of the picture are wearing Tassel Loafers.
I ponder if the white jeans was part of the band look then. I have always thought they stamped their MOD allegiance with this sleeve.
The 2nd single you can see the feet again! This time no parkas, but again stable MOD Revival clothes. On the feet again, Mick has desert boots and can of lager! I have often thought could the photographer not have told them, move the can and do something a little more interesting with the hands! More loafers on the rest of the guys.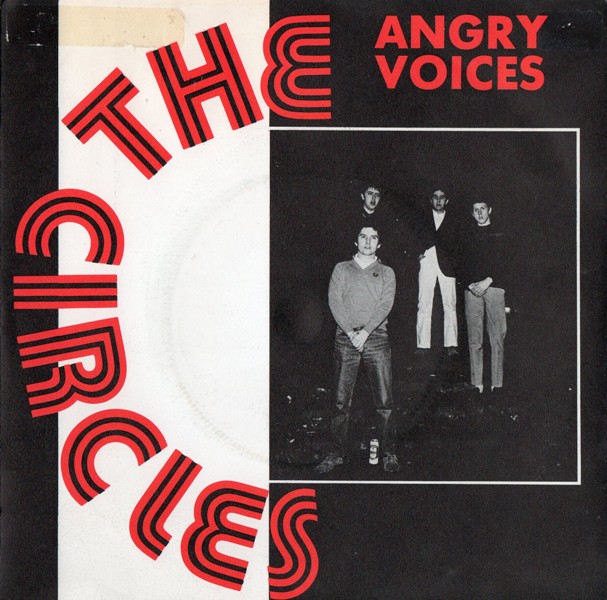 The Circle's songs are all strong and played with gusto. I have seen the band a couple of times since those days and Mick has one of the best voices and one of the few that can do a good Steve Marriott. Certainly at MODS Mayday 99 they were one of the strongest on the day.
In terms of their look, they epitomize to me what I feel is the classic mod revival look, one that was played out all over the country.
The Purple Hearts
The Hearts only have one single where you can see their feet, and it is the classic Jimmy. In terms of dress The Purple Hearts always looked good to me, they were early adaptors of 'op art' shirts and their clothes fitted well.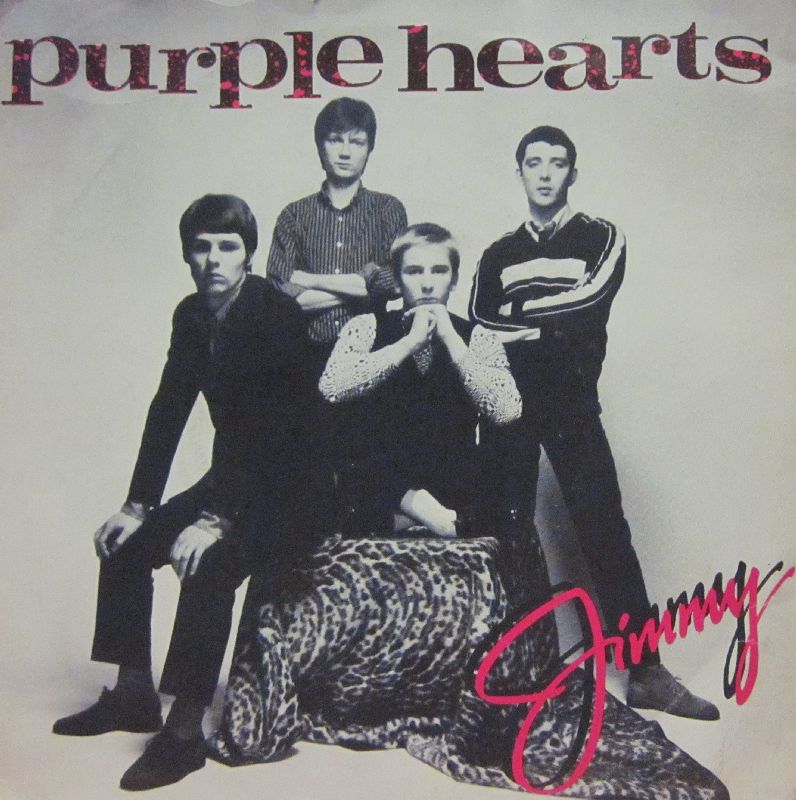 So Bob Manton, suede lace ups. The picture is black and white so I am assuming the shoes are black or dark brown. I like to think they Hush Puppies. On the right of the picture is Gary Sparks, again good outfit, the striped jumper I would have loved then, the feet though. Guess what those bloody Quadrophenia desert boots!! Why are there so many of them?
My favourite of this image though, Jeff Shadbolt. Jeff always looked great in any pictures I saw of the band. You can't quite make out what the shoes are in the pic, but shiny and laced up. Along with op art shirt and black top he looks really good, but hold on I have forgot to mention the WHITE, yes WHITE socks. Classic Mod Revival look.
The Purple Hearts hung around into the 80's. Splitting up and getting back together every now and again. I saw them several times and they always looked great and influenced a lot of us MOD revivalists.
The Merton Parkas, yes the Merton Parkas
The Parkas released a lot of singles, and lots of picture covers.
Cover wise of the single of You Need Wheels, again stamping MOD all over it and on the reverse. The Two SX150 look cool and the band too, only Danny isn't wearing a tie !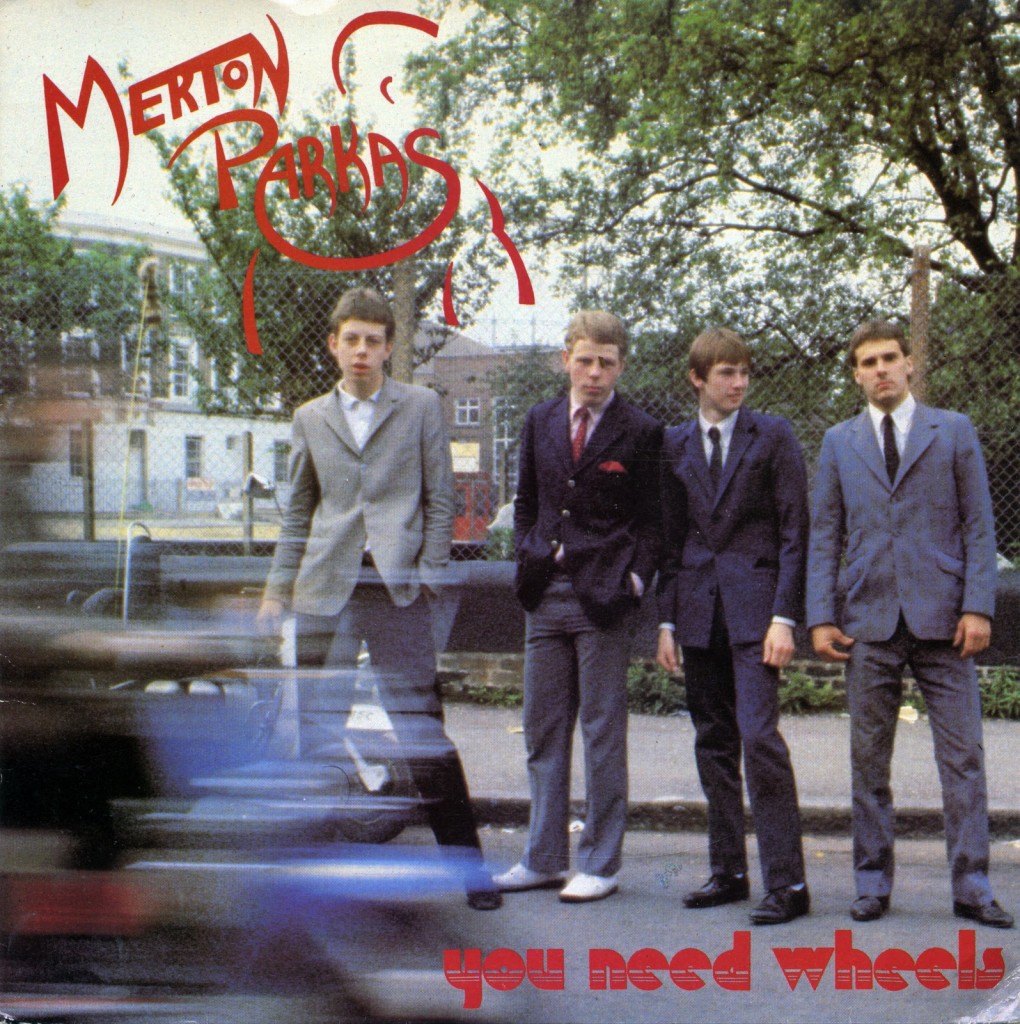 But do you know what, I don't own the single and the pics online are not clear enough. So I can't comment more, but I do have the next one.
By the time of Put Me In The Picture the band look like they are trying to inject a little fun. Style wise it is out of the window, but on Simon Smith's feet , Tassel loafers! Neil Hurrell (far right) is in some ok shoes, a bit dad looking, but the hat , spoils a possibly nice outfit, Danny just looks daft! And Mick! He looks likes a 20's bar owner.
So why am I bothering with this cover at all. Again the Mod Revival look is played out by Simon Smith. Is it important ? Well in context possibly. The song is a good one and as a young mod you are looking for reference points. You can tell the others are a mile out, but Simon is not, certainly his look was attainable. Young mods, me included ,needed something we could achieve with limited budgets. The suits looked great, but where can a 15 year old lad get a suit like them, then have the money to actually buy it?
The Merton Parkas didn't have a good rep at the time, certainly many thought they were plastic! They did have 4 good songs, and judging by the audience reaction on the MODS Mayday deluxe edition, were very popular live.
I will do some more bands in another blog soon. Mod Revival always gets stick for being retro and not very good. I have always liked and loved some of the records, for every cringe worthy "you need wheels" there is a classic like "my world" or obscure stuff like "opening up" by the Circles.
I know we are meant to be about shoes on here, but here are some tunes you should try and hear, which you may not have heard of.
Think Mod Revival was just The JAM and Secret Affair….? Enjoy!! 
Squire – My Mind Goes Round in Circles | http://www.youtube.com/watch?v=XeEp-u0E830
The Cirlces – Opening Up | http://www.youtube.com/watch?v=3_SFnEKuCC8
Missing Persons – Forever Young | http://www.youtube.com/watch?v=5PAsncd8ba4
The Merton Parkas – Flat 19 | http://www.youtube.com/watch?v=hqJVJ4ykY2c
Sta Prest – School Days | http://www.youtube.com/watch?v=zMORwnrK5GU
The Blades – Hot For You | http://www.youtube.com/watch?v=8GSfHOVmkF8
The Times – Big Painting | http://www.youtube.com/watch?v=4G_vTZZ57dg
Modettes – Satisfy | http://www.youtube.com/watch?v=ke4t1CJIzJ8
The Amber Squad – Can We Go Dancing | http://www.youtube.com/watch?v=tnlvukphous
The Chords – The Way it's Gotta Be | http://www.youtube.com/watch?v=AsRwl5XK6X4
For those with Spotify here is the above list as a playlist. Mo-dettes songs is "white mice" and couple of the tunes are live recordings. http://open.spotify.com/user/movingupmedia/playlist/6ZgmnMe3aARSqeThU1SKnC
Blimey managed to get through all that and didn't mention Jam Shoes once!