Earn 10 Reward Points by commenting the blog post

Sizing! Just how broad are you!
The thoughts behind this blog entry are mainly about how different shoes can come up different sizes.
Modshoes stock a range of shoes by different makers,sometimes within their own ranges the shoe sizes vary as well.
So is an 8, an 8 in all makes?
Well straight away you have to consider the style of the shoe. The cut of the shoe, the design of the shoe, how is it going to stretch, is it laced or slip on? The point being some shoes are designed for a thinner foot.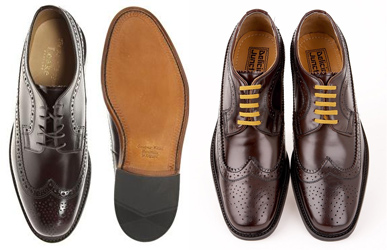 For examples here are two brogues, one by Loake, the other by Delicious Junction. Both are really good looking shoes. Both stylings are good to my eye, meaning the Loake is slightly rounder, and the DJ a more flattened front. Both come in black or oxblood. Both have leather soles. One is £78 and one is £150.
Now the first thing you may think is well, I can save myself half the price. And that is a fine argument. But, and this a big but, which one is going to fit like I want it to?
Now this is the exact reason, I started the Modshoes website. There is not one website out there that could tell me the difference, and more importantly, whether either of them were any good.
So now I have a pair of both and yes they are different , the Loake is designed for a wider foot. My left foot is 8 and my right 8.5. So when I am buying I need to know if the shoe is going to grow to the shape of my feet. The Delicious Junction Upsetter on the other hand (or should i say foot!) had a narrower feel. So much so that I may even consider going up a size to see if it feels right.
So what am I trying to get at? Well here are some simple pointers as I see it;
Make sure you know your proper size. In the UK, Clark's will measure you, and the cheap outlet Brantano will also.
Do you have a wide foot?
Does the design of the shoe lend itself to stretch if the shoe is a little tight to start off with. More on this in a bit.
If you are a wider kinda guy, are you going to have to give tight Italian winkle pickers a miss!
So how do you accommodate your foot.
A lace up shoe is always going to flex more. Stand to reason doesn't it. The lace is very forgiving in terms of your front of foot. A Derby lace up is more forgiving than an Oxford. Brogues tend to come in both Derby and Oxford styles, so if you are buying online, you know the Derby is safer.

Next up in my mind is the leather.
Cheap leather is never good. Whether you are buying a lace up or a loafer, you want the foot to be accommodated properly after a few wears. Some quality loafers can take up to a year to wear in, I have heard Sebagos are meant to be like this. But they also last for years!
So time to start naming names!
Delicious Junction Sizing
We sell a lot of Delicious Junction shoes. We sell them because they are a good shoe at a fair price, and aim their styles at MODS. Not all of them but over 50%. The leather is good on the shoes we stock.
Rudeboy
They do vary, the Rudeboy which is very popular, I would say is slightly wider then most loafers. I advise people to come down a size, rather than go up.So if you are an 8.5, go for a 8.
The Upsetter
The Upsetter though, comes up small, I have tried on an 8 and 9, my normal size being a large 8. But I would get the 9's because the cut is narrow. Same with the Upsetter boots.
Their other shoes also vary a little, but in the main the loafers come up big and the laces smaller. But this is maybe because I have a wide foot.
The Delicious Junction have only taken a few wears to feel right. The leather on all the shoes I own of this brand have taken about 5 hours of wearing to feel comfortable.
In this video I danced for an hour in a brand new pair of Delicious Junction Detroit loafers and they started feeling good after that hour. The Detroits are the one exception to the range of loafers, if you are an 8.5 go up a size, not down.
Loake
Loake though does tend to be more standard in sizing. And as you would expect from a UK maker that's been around for a while, the range is consistent. But you pay for that, Loakes start at £99.
The leather Loake use though takes a bit more wearing in. Will it last longer! Only time will tell, but I know lots of soulies with Loakes and Bass Weejuns that are years old and still going well.
Ikon
Ikon we also sell, and again are very like the DJ line. Now maybe this is because both are made in Portugal ! And as such have European sizing rather than stricter UK.
---
I do want to come back to the design, stitching and leather, all of which play a part in how the shoe is going to fit on your foot.
When considering buying a shoe, think about whether the leather will stretch, also the stitching. Has the designer designed this for a narrow or a wide foot?
A loafer has the stitching to stretch, but if the leather strap across the top is made of cheap leather, it won't stretch well!
Look at the Loakes here for example.
The Brighton has a wider look, the Georgetown a narrow. Both are very good leather and stitching.

---
I suppose I would like to conclude that you get what you pay for. Are the Loakes worth twice as much? Well I think so, but are you going to wear them every day or for long hours?
Meaning, if like me you go out once a week, and you have a few pairs of shoes, it is unlikely that a pair of shoes are going to wear out fast, so have more pairs of cheaper shoes.
But if you intend to spend many hours dancing at a soul club, with loads of talc on the floor, then go for good quality ones, your feet will say thank you!
So please watch the video and come back with comments, and also your own experiences of sizing.
Comments and also your own experiences of sizing, very welcome below