Earn 10 Reward Points by commenting the blog post

For some time now I have been thinking about some brogue boots. In particular the Tan Burford boots from Loake. The style is reasonably common and you see variations from many makers. So like before I am asking myself is the Loake really worth twice and in some cases three times the price of other makes.
So here is some of my initial  thoughts.
What am I going to wear them with ?
Well most of my days I am in the office, packing shoes, writing up words for websites etc. I do a little meeting clients. I don't have to wear a tie or do anything really dirty. So most days in winter I wear Levi's, shirt and jumper, or a long sleeve polo, smedley type top.
So under jeans I think the boots, will be great. The tan colour looks good with a multitude of tops configurations and jeans.
So where else will I wear them and are they practical ?
Well I have met a few people that wear them day to day religiously, and from a range of different jobs. An accountant, a used range rover dealer, a hog roast caterer and many more. So from a practical hard wearing point of view, I think they win.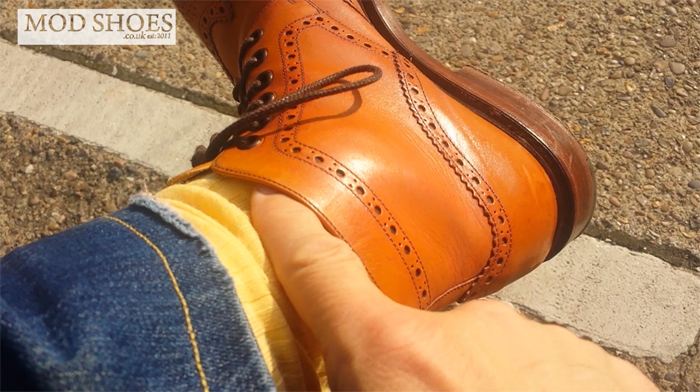 The leather is hard wearing and Loake offer a service of resoling, so as long as I don't tear them, or anything else, I should have the boots ages.
Could I wear them out in the evening ?
Yes depends where and what with. I would wear them with a suit and the compliment well. Here is a picture of Patrick Foisy from Parka Avenue in his.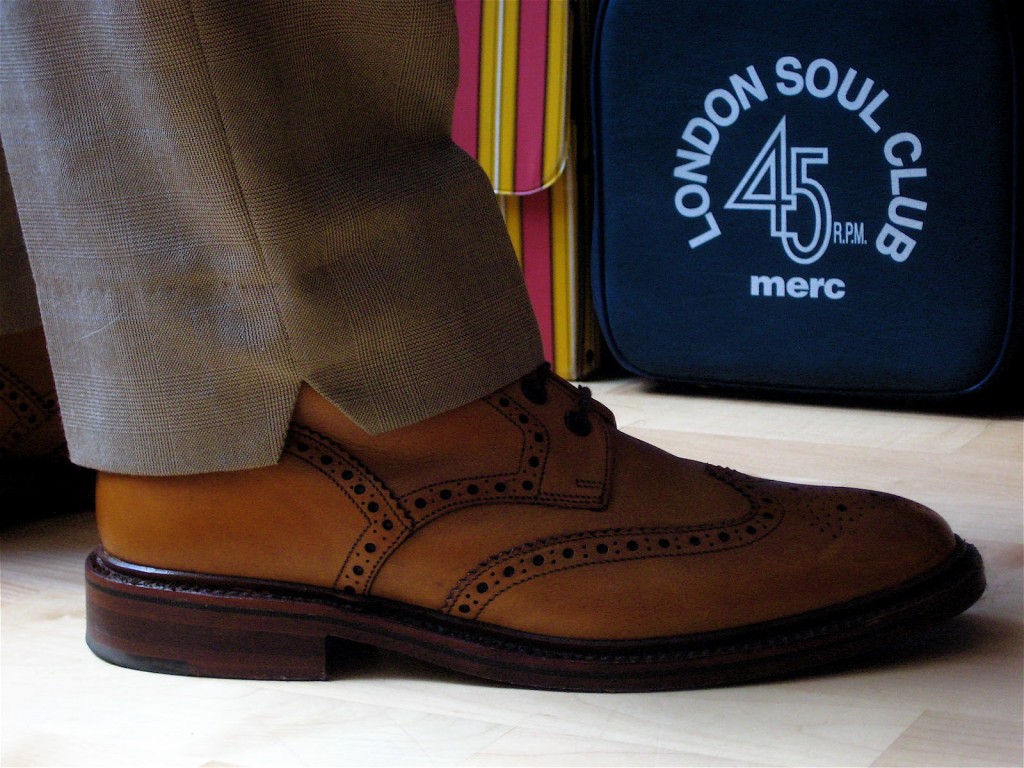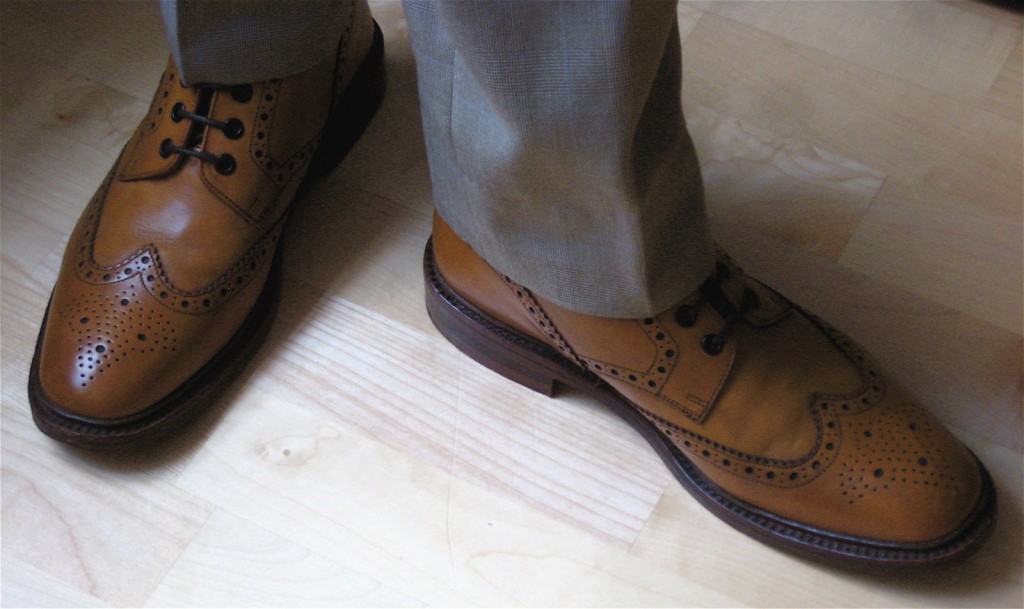 Would I FEEL better in them?
Now this is the question I often ask myself. It is possible to buy cheap, or should say good value shoes, for little money. They look good for a while and will last the season, when no doubt I may want something else.
But and it's a big but, the people I have met who paid the expense said it was worth every Penny, and that once worn in, where dead comfy boots. My fear is that a cheaper boot will literally last six months at best.
Now as we are called modshoes, it brings into question, are we mod 24hours a day?
When I am out walking the dogs which I do twicely daily. I wear a mixture of things, old jeans, old tops etc. At work where it spend a lot of my times, as I imagine so do a lot of you, I could be fully moddy everyday, but sometimes is it just a hint of MOD, and leave the smart stuff to the weekend?
I have heard some say in the 60's they had a job that allowed them to be 24 hour MOD, and that was the only way for them. But I can't imagine me packing up shoes in 3 button suit with tie!
But will I feel better in better boots, then yes I think the price and quality of the boots, will make me work better, because I will feel better.
Why Boots & Not the shoes ?
How about some Tan brogues shoes instead, like the Sutherlands or Chester's.
Well I have thought about that, and again like the style, as I love my Royals, but I am not sure I would want to wear them all day, their something I like for weekends. Boots perhaps feel a bit more like you are going to work !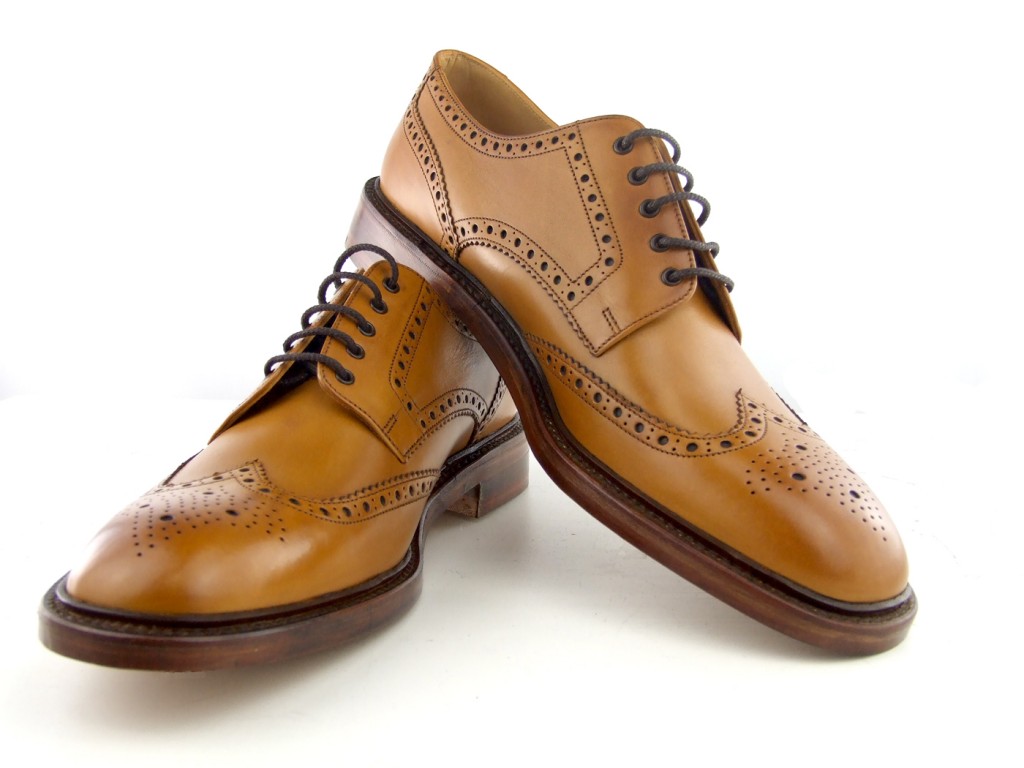 Does it have to be Loake why not DJ
Below you can see DJs take on the classic brogue boot. These are coming out very soon, and have in common the Goodyear welted sole, tan leather etc. the only slight difference is the sole. The Loake has the advantage of being stitched and made in the UK hence replacement sole is a lot easier.

The big but that's coming here though, is the advice I give to customers all the time. If you wear your shoes, 24/7 treat yourself to the Loakes. On the other hand, if you wear your shoes 3 times a month at a do or pub etc. then the DJs represent really good value for money, and mean you can have two different shoes for the price for one Loake.
So I have think I have answered my own quandary, Loake Burford boots for me. I will get 4 to 5 months good use out of them, this year alone. And perhaps again next year and so on.
Hope my thoughts have helped you too
Andrew Lindsay
MD Mod Shoes
And here is a video we did to find out how they feel on the 1st 30 days