Earn 10 Reward Points by commenting the blog post


I would say these are a classic and one style that will also be thought of as MOD revival. I am not sure where Weller got his first pair! or whether he had them made. I assume he must have had seen the picture or The Who's Roger Daltrey wearing era '64. In the picture you can clearly see the two tone black and white shoe.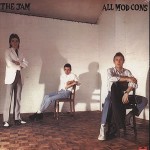 Certainly The Jam seem to wear them through most of '77 and Foxton can be seen in a pair on the 'All Mod Cons' LP cover. As the band came through, the shoes would have been an easy money spin.
At the time you could buy them from either going to Carnaby Street or by mail order. I remember Melandi being one of the shops that used to push them.
I am not sure if Melandi made them and welcome an answer on that one. You still see them about on scooter rallies in th UK. Personally, as a shoe, I think they look pretty good and as style I think the pointy look goes in and out of fashion.
Ikon are the only people making these shoes these days. if you fancy a pair here you go !
 
Here are some pictures of people wearing them.