Earn 10 Reward Points by commenting the blog post

Chelsea Boots
I am not sure about Chelsea Boots. Why? Because I see them more a fashion thing, than a pure MOD thing. I know you can say the same about loafers, but everyone wore Chelsea Boots. Goths wear them now and they suffer a little from being what people think of 60's MOD imagery.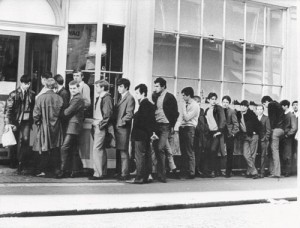 Also, and as much as I love them, The Beatles wore Chelsea Boots. So are they MOD?
There are many variations of the Chelsea Boots, but the iconic 60's look is the thin, but very pointed boot, with a Cuban heel.
"We all dressed in that look" said Granny Takes A Trip founder Nigel Waymouth, then a blues-mad student. "Pea jackets, very tight jeans and pointed Anello & Davide shoes. Probably a matelot shirt. I'd go to the Railway Hotel in Richmond and the Gee Club in Ealing to see Alexis Korner and Cyril Davies."
In terms of these days, there are loads of Chelsea Boots to be had. These boots look pretty good. http://www.scorpioshoes.com/mens-2/shoes-5/formal-slip-ons-50/paolo-vandini-veer3-mens-leather-chelsea-32695.htm  These boots look good, but I think they are a little Austin PowersMOD! http://fantasyshoe.com/mod-60s-retro-boots-shoes/fur-cuban-heel-winklepicker-beat-boots not for me, but perhaps you?
Boots We Sell
£

128.00
UK6 | Euro40
UK7 | Euro41
UK8 | Euro42
UK9 | Euro43
UK10 | Euro44
UK11 | Euro45
UK12 | Euro46
£

128.00
UK6 | Euro40
UK7 | Euro41
UK8 | Euro42
UK9 | Euro43
UK10 | Euro44
UK11 | Euro45
UK12 | Euro46
PICTURES: