These beautiful gloves are made from soft leather, and are designed to be a part of our exclusive "Isabella" coordinated collection. In three fabulous colourways, they will match or mix perfectly with the dresses and shoes in the collection. Add the tights or earrings for the ultimate in coordinated chic.
Contrast trimmed unlined leather driving glove cut to fit like a second skin. Lightweight and soft.
The gloves come in a presentation box, which would make these a fantastic gift to give.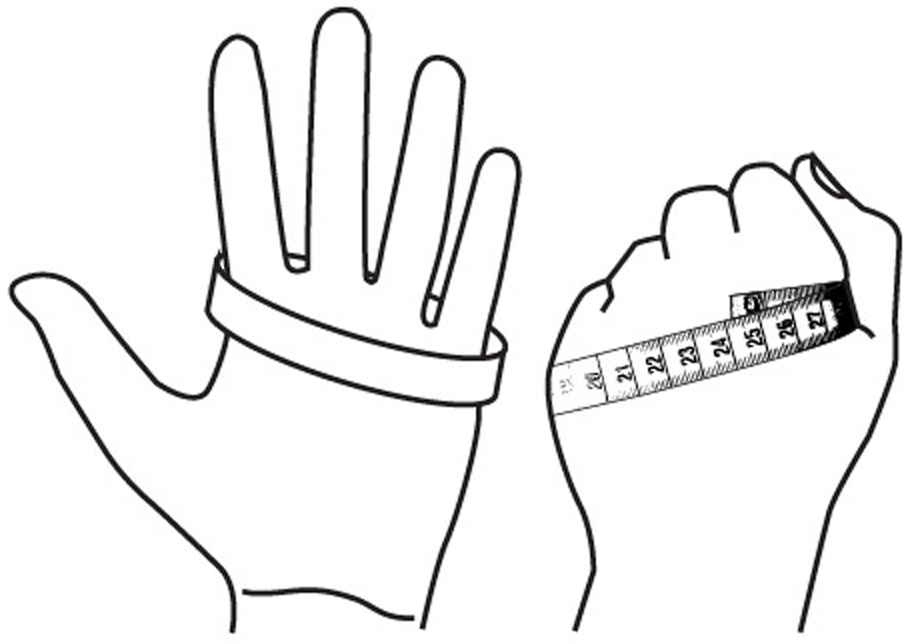 SIZING
THE TAPE METHOD
Usually one hand will be slightly larger than the other, typically the dominant hand (the right hand if you are right handed). Using a fabric tape measure, wrap the tape around the dominant hand at the widest part (between your thumb and index finger) and make a loose fist. Make a note of this measurement and check our sizing guide below.
THE SHOE METHOD
Our expertise has revealed that there is usually a direct correlation between foot size and glove size. Try this handy guide which might prove to be particularly helpful when you can't get to a tape measure or when buying a pair of gloves as a gift.
THE TAPE METHOD

THE SHOE METHOD

Men's Glove Sizing

Women's Glove Sizing

Men's Size

Women's Size

SIZE XS = 8″ (20.25 cms)

SIZE S = 8½" (21.25 cms)

SIZE M = 9″ (22.50 cms)

SIZE L = 9½" (23.75 cms)

SIZE XL = 10″ (25.50 cms)

SIZE XXL = 11″ (28.0 cms)

SIZE S = 6½" (16.50 cms)

SIZE M = 7″ (17.75 cms)

SIZE L = 7½" (19.00 cms)

SIZE XL = 8″ (20.00 cms)

Men's shoe size 8-8½ – Try glove size S

Men's shoe size 9-9½ – Try glove size M

Men's shoe size 10-10½ – Try glove size L

Men's shoe size 11-12 – Try glove size XL

Women's shoe size 3-3½ – Try glove size XS/S

Women's shoe size 4-4½ – Try glove size S

Women's shoe size 5-6 – Try glove size M

Women's shoe size 6-7 – Try glove size L

Women's shoe size 7-8 – Try glove size XL