This is the payment page for exchange postage for europe zone 2
You wont pay Import Taxes
DHL offer both an Air and Road service, in simple terms road is cheaper but takes longer !
Country
VAT
Postage Example 1 Pair By Road*
5 – 10 days
Postage Example 1 Pair By Air*
1 – 4 days
Bulgaria
20
£30
 £37
Czech Republic
21
£30
 £37
Estonia
20
£30
 £37
Greece
24
£30
 £37
Croatia
25
£30
 £37
Cyprus
19
£30
 £37
Latvia
21
£30
 £37
Lithuania
21
£30
 £37
Hungary
27
£30
 £37
Malta
18
£30
 £37
Poland
23
£30
 £37
Portugal
23
£30
 £37
Romania
19
£30
 £37
Slovenia
22
£30
 £37
Slovakia
20
£30
 £37
Finland
24
£30
 £37
Andorra
20
£30
 £37
Geurnsey
20
£30
 £37
Liechenstien
0
£30
 £37
Norway
0
£30
 £37
Slovenia
0
£30
 £37
Iceland
0
£30
 £37
—————————-
The new service means the price you pay us, includes all taxes , import duties etc, so you have no 'Unexpected Charges' .
DHL is also good for you, as it is a 'Point 2 Point' system meaning the tracking is really good, the same company will pick up from here, will also deliver to you, and you will know where your goods are as they travel to you :-)
The tracking allows for you to be updated, and also update DHL if you want the redirecting etc.
We think this will give our customers real peace of mind.
Rates vary per country because of VAT in destination country. We show the VAT here, because once you have chosen your country on Checkout page, the price will alter slightly. Be rest assured the checkout price is the final price :-)
Returns, Refunds & Exchanges
We will include a 'Sticker' with your order that you must fix on to the returning items. The sticker will say 'Faulty Goods', they are because they don't fit ! This means we can get the items back into the UK with no import taxes etc.
For Exchanges
Once we have collected your payment for sending fresh pair, we send out the items again, but this time because duty has been paid you wont be required to 'Repay' import duty etc. It goes without saying, we cant do this on the first sending, as this would be against the law, so please dont ask :-)
International returns please note: If you are returning anything to us from outside the UK you must complete a customs declaration correctly indicating that the package contains "returned goods" or similar. If your parcel is stopped in UK customs and a charge levied, we will refuse payment and the package will be returned to you. Under no circumstances will we pay customs duty in order to receive back our items.
The Sticker will look like this, and will need to be applied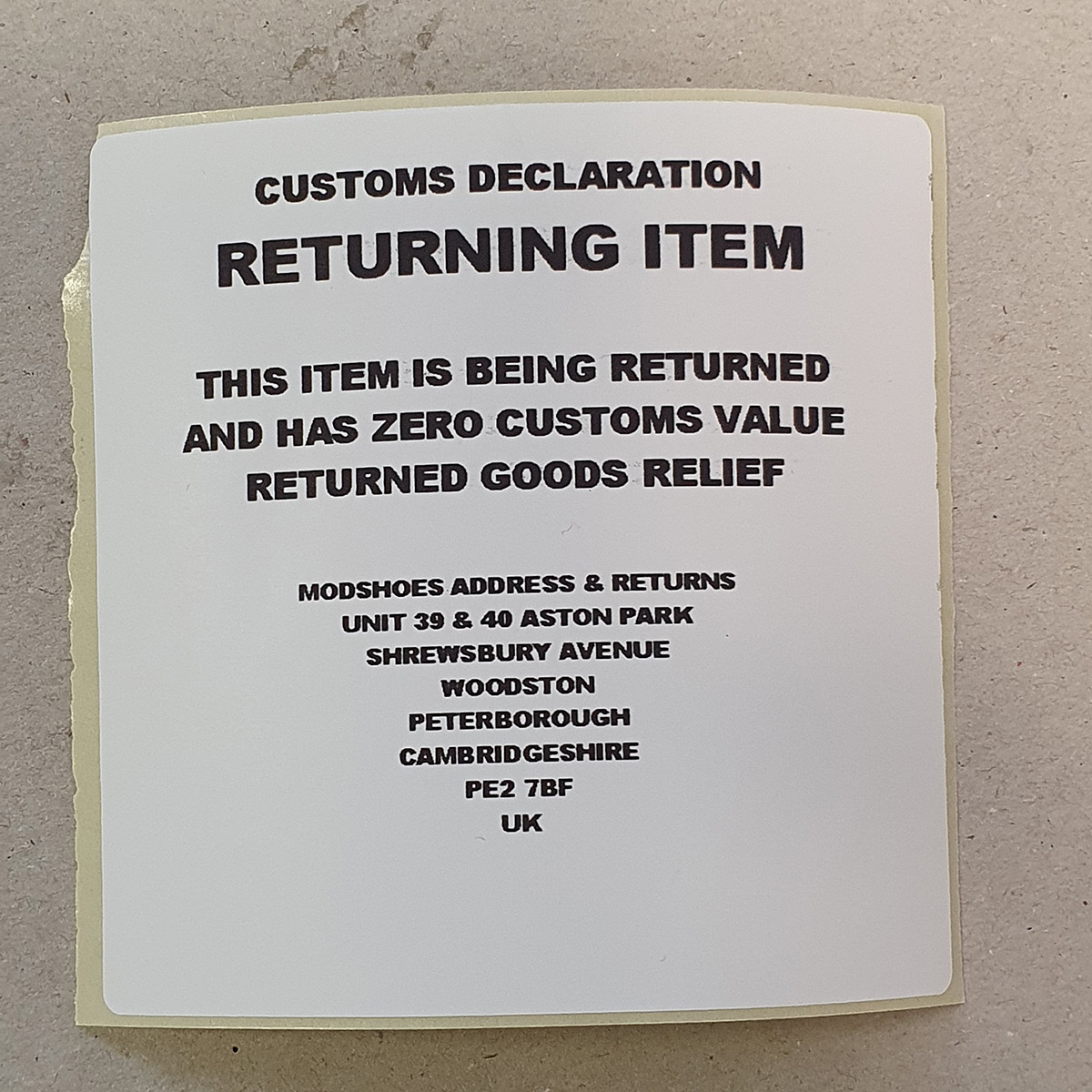 CUSTOMS DECLARATION
RETURNING ITEM
THIS ITEM IS BEING RETURNED
AND HAS ZERO CUSTOMS VALUE
RETURNED GOODS RELIEF
MODSHOES ADDRESS & RETURNS
UNIT 39 & 40 ASTON PARK
SHREWSBURY AVENUE
WOODSTON
PETERBOROUGH
CAMBRIDGESHIRE
PE2 7BF
UK