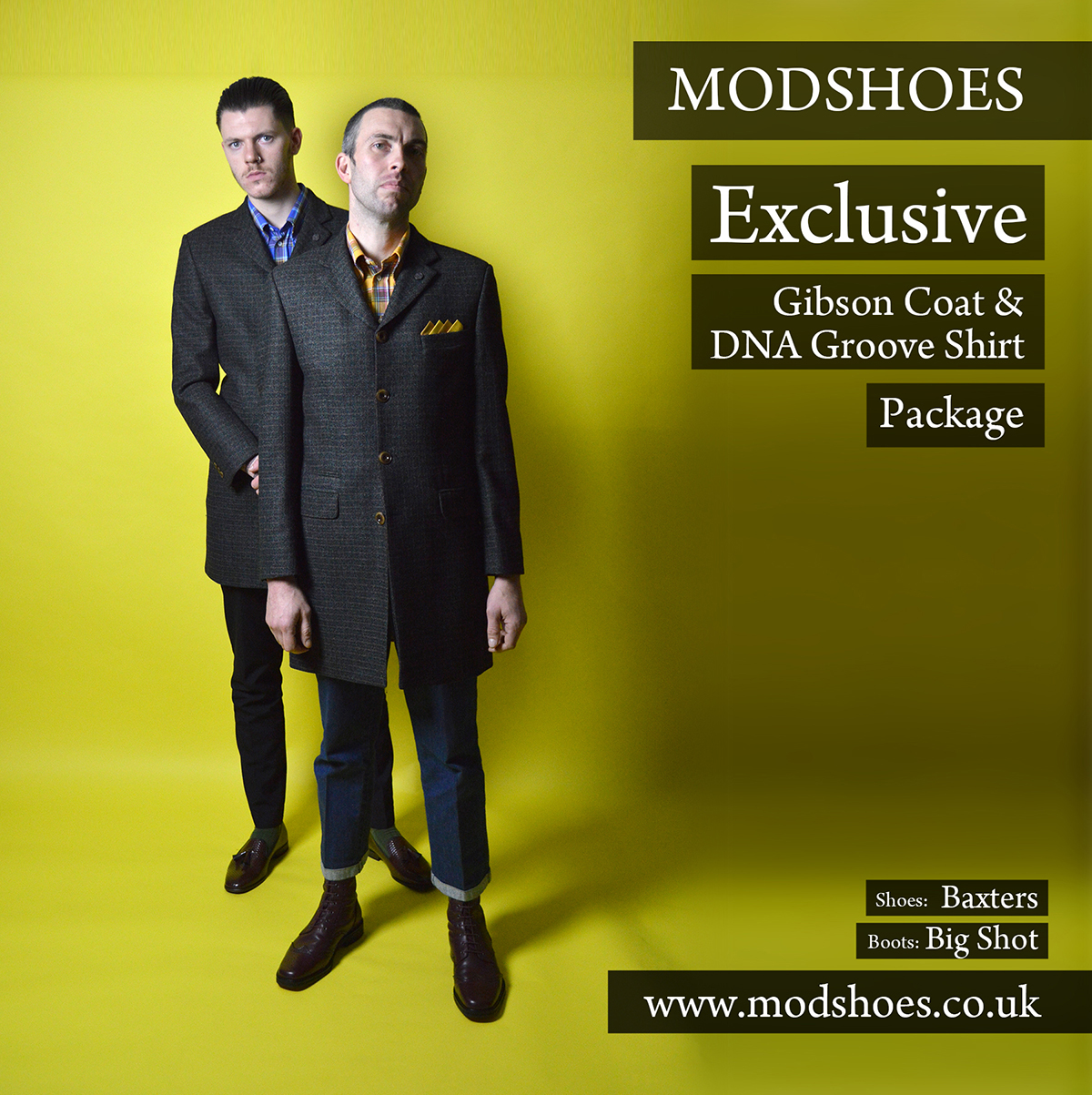 We have teamed up with two excellent manufacturers, to bring you a really cool exclusive
The idea behind this, was to create an outfit that looked smart for all occasions. It was inspired by some old pictures that we had seen, and the impeccable style of a good friend of Modshoes. The Crombie overcoat is a classic, but when worn with a super sharp 'Button Down Shirt', jeans or trousers, and some cool shoes or boots, you have a look that works. So, yes, an outfit that you could wear to football during the day, but also out for an evening. So with that in mind we started to source the perfect components.
DNA Groove make great clothes, so we asked them if they would do us a very small run of shirts, and here we have the two designs that they have produced for us. There are only 34 of these shirts. DNA were asked if they could make the shirts to complement the coats from Gibson London clothing. Gibson,  as you will know, make some top quality clothes,including our recent 'Peaky Blinders' suits.
To finish off the look, we have some Exclusive pocket squares to go with each of the Coat/Shirt packages
To accompany the look, we suggest a pair of dark jeans (which most of you have already) or dark blue sta-press. And on your feet, we recommend a pair of our Big Shot boots, or any of the shoes from our website.
N.B. The coat and shirts will not be sold separately, they come only as a package.
Please Remember there are only 30 of these packages in total !
Sizing
Please measure you chest with a tape measure, to get a good size. The shirts are a slim fit, so please bear this in mind. Order up not down. If you intend to wear a jumper or cardigan under the jacket or like a loose fit, please order up
Can we ask please try on as soon as possible, as we have very limited numbers.
Products Used In The Photos

£

142.00
UK6 | Euro40
UK7 | Euro41
UK8 | Euro42
UK9 | Euro43
UK10 | Euro44
UK11 | Euro45
UK12 | Euro46